Galaxy
Messier 51, Whirlpool Galaxy
---
---
M51 2019-03-23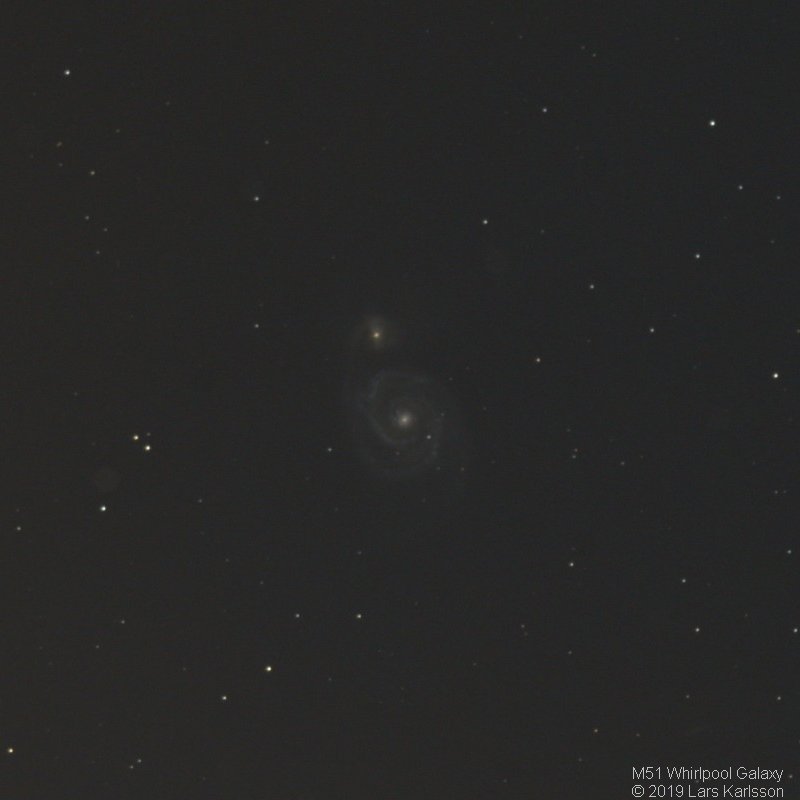 | | |
| --- | --- |
| Date : | 2019-03-23 |
| Time (UT) : | 20:48 to 21:40 |
| Mount : | EQ6 controlled by EQMOD |
| Guide : | PHD2 in dithering mode, Guide telescope 400 mm f/6.3, camera QHY5 |
| Lens/telescope : | TS130, 910mm f/7 |
| Corrector/Barlow : | Flat field corrector 3" x1 |
| Filter : | none |
| camera : | Canon 6D |
| Film/CCD : | Raw |
| Exp. time : | 30x60 seconds, iso1600 |
| Image process tool : | AstroImageJ, Fitswork, Irfanview |
| Processing : | demosaic, flat, hot pixel removed by dithering, level, 1:1 crop |
| Weather : | clear, full moon |
| Site : | Sweden, Stockholm, Hagsätra |
| Comment : | This night the sky was clear and I spend a long time to get in better focus. The difference isn't much better compare to earlier attempts but on the right way. The noise is less for some strange reason, the exposure time was only half compare to the one before. |
---
M51 2019-03-19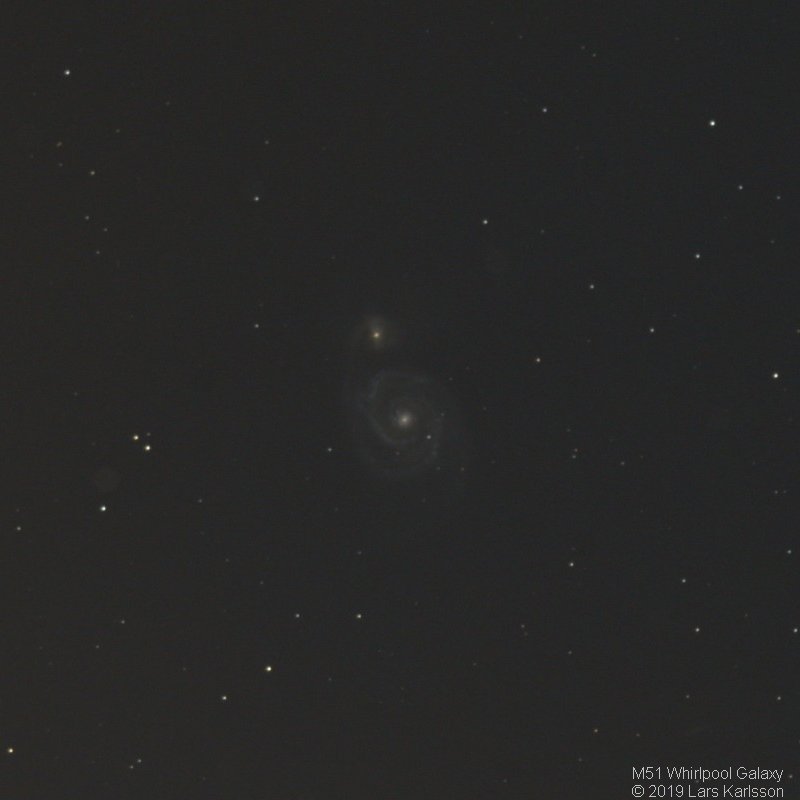 Date :
2019-03-19
Time (UT) :
20:11 to 21:36
Mount :
EQ6 controlled by EQMOD
Guide :
PHD2 in dithering mode, Guide telescope 400 mm f/6.3, camera QHY5
Lens/telescope :
TS130, 910mm f/7
Corrector/Barlow :
Flat field corrector 3" x1
Filter :
none
camera :
Canon 6D
Film/CCD :
Raw
Exp. time :
60x60 seconds, iso1600
Image process tool :
AstroImageJ, Fitswork, Irfanview
Processing :
demosaic, flat, hot pixel removed by dithering, level, 1:1 crop
Weather :
clear, full moon
Site :
Sweden, Stockholm, Hagsätra
Comment :
One more attempt to test the equipment on the galaxy M51. More control of the focuser and maybe you see that this latest photo is a bit sharper. This is the first image it didn't slip at all.

To increase the contrast I need a lot more exposure, without that the noise will be to high.
---
M51 2019-02-15, new setup with longer focal length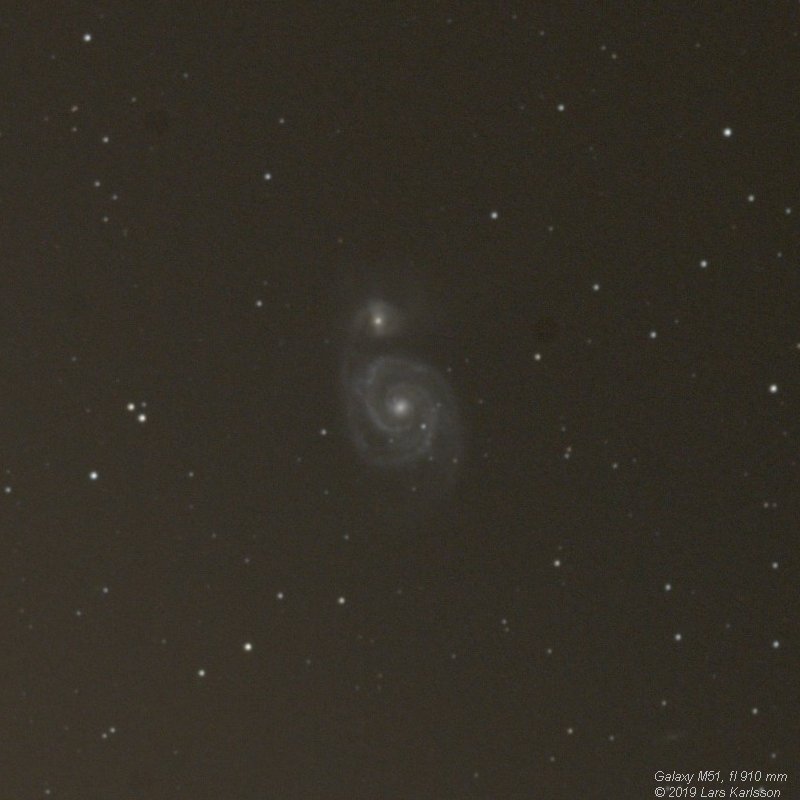 | | |
| --- | --- |
| Date : | 2019-02-15 |
| Time (UT) : | 21:46 to 23:43 |
| Mount : | EQ6 controlled by EQMOD |
| Guide : | PHD2 in dithering mode, Guide telescope 400 mm f/6.3, camera QHY5 |
| Lens/telescope : | TS130, 910mm f/7 |
| Corrector/Barlow : | Flat field corrector 3" x1 |
| Filter : | none |
| camera : | Canon 6D |
| Film/CCD : | Raw |
| Exp. time : | 120x30 seconds, iso1600 |
| Image process tool : | AstroImageJ, Fitswork, Irfanview |
| Processing : | demosaic, flat, hot pixel removed by dithering, level, 400x400 pixel 1:1 crop |
| Weather : | clear, full moon |
| Site : | Sweden, Stockholm, Hagsätra |
| Comment : | A new attempt to catch the M51 galaxy. This time with the new setup and increased focal length, from 682 to 910mm. Short exposures with high ISO setting. A small improvement. |
---
M51 2016-02-25, new camera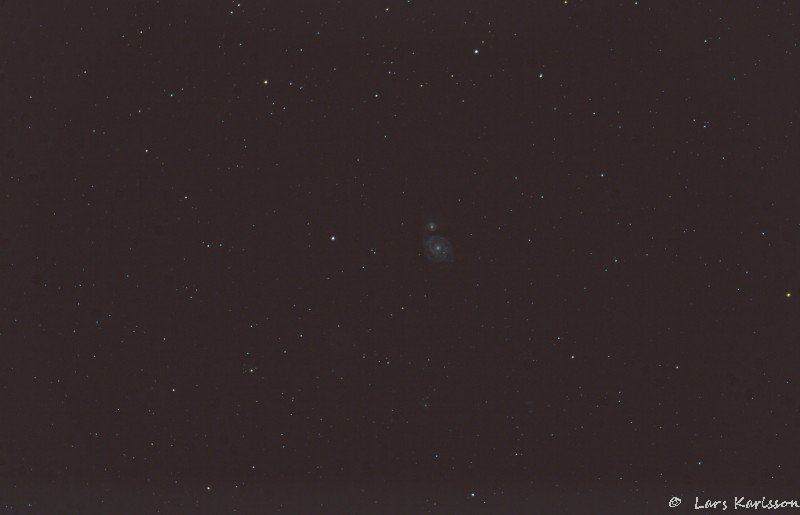 | | |
| --- | --- |
| Date : | 2016-02-25 |
| Time (UT) : | 20:50 to 22:13 |
| Mount : | EQ6 controlled by EQMOD |
| Lens/telescope : | TS130, 910mm f7 (682mm, f5.3) |
| Corrector/Barlow : | Riccardi flat field corrector 2.5" x0.75 |
| Filter : | none |
| camera : | Canon 6D |
| Film/CCD : | Raw |
| Exp. time : | 60x60 seconds, iso800 |
| Image process tool : | Fitswork, Irfanview |
| Processing : | resize, level, dithering |
| Weather : | clear, full moon |
| Site : | Sweden, Stockholm |
| Comment : | This galaxy is interesting. There is actually two galaxies that interacting on each other. Hard to see here, look in the zoom in version next. |
Zoom in high contrast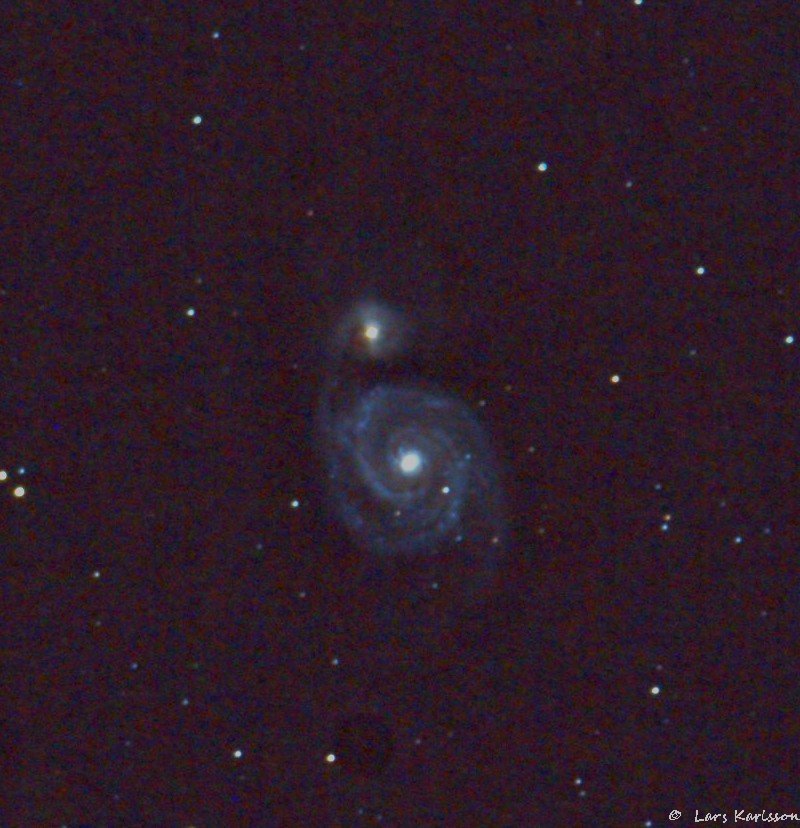 | | |
| --- | --- |
| Comment : | It's very common too see galaxies interacting or merging together, the upper small galaxy is NGC 5195. Our galaxy Milky Way maybe merging together with the Magellanic Cloud. |
---
M51 2015-03-10, my first attempt to catch this weak galaxy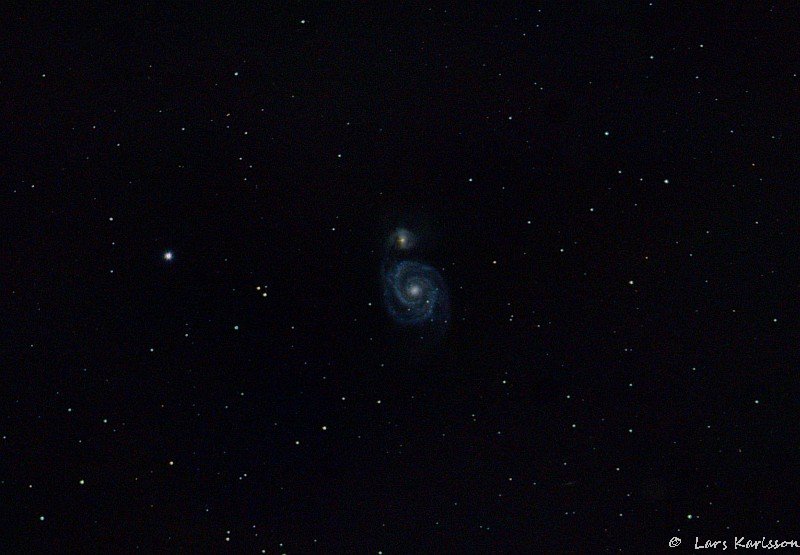 | | |
| --- | --- |
| Date : | 2015-03-10 |
| Time (UT) : | 21:35 to 22:01 |
| Mount : | EQ6 controlled by EQMOD |
| Lens/telescope : | TS130, 910mm f7 (682mm, f5.3) |
| Corrector/Barlow : | Riccardi flat field corrector 2.5" x0.75 |
| Filter : | none |
| camera : | Canon 5D |
| Film/CCD : | iso800 |
| Exp. time : | 21x60 seconds, iso800 |
| Weather : | clouds come and go |
| Site : | Sweden, Stockholm |
| Comment : | M51 is more than 10 times more far away than the Andromeda galaxy. |