Nebula
IC 1831 Heart Nebula
---
---
IC 1831 Nebula 2022-11-12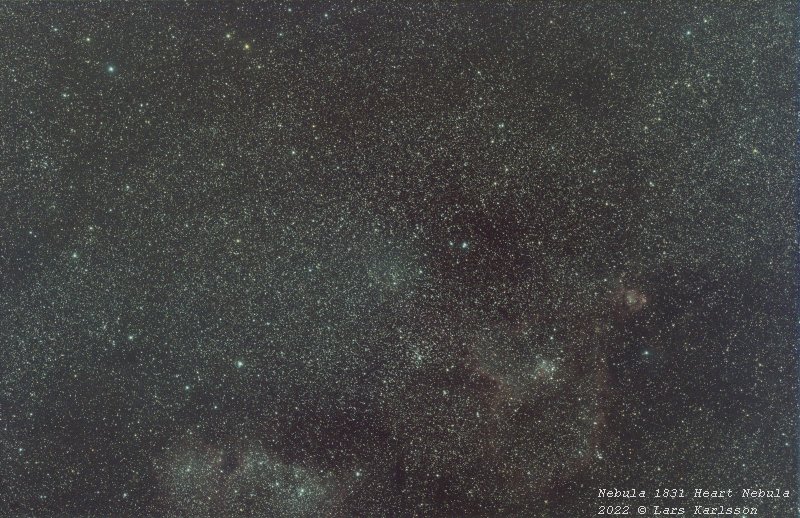 (Click on the image and get a full resolution image in a new window)
Date :
2021-11-02
Time (UT) :
17:56 to 18:37
Mount :
SkyWatcher HEQ5 controlled by Astroberry
Guide :
Ekos internal guider in dithering mode, QHY5 camera with 200 mm f/3.5 lens
Lens/telescope :
Pentax 645 300 mm ED f/4 (medium format lens)
Corrector/Barlow :
-
Field (FOV) :
6.8x4.5 degree, before cropping
Filter :
none
camera :
Canon 6D, controlled by Astroberry software
Film/CCD :
Raw
Exp. time :
13x120 seconds, iso1600
Image process tool :
Siril, Fitswork, Irfanview
Processing :
crop, resize, level, cal dark, bias, flat
Weather :
clear
Site :
Sweden, Stockholm, Ingarö. Bortle class 4
Comment :
Now when at the dark place at Ingarö I must try to catch some nebulas. This is the Heart Nebula. It's not easy to recognize it in the strong full Moon light. I give it a new try later when not full Moon and give it much longer exposure. I had to throw away half of the photos because of clouds coming into the field.

The flat calibration master is far from perfect, as a result the center got a dark spot which shouldn't be there. It's very difficult to take high quality flat frames, this is done against the evening sky before the stars appear.