---
1954 solar eclipse: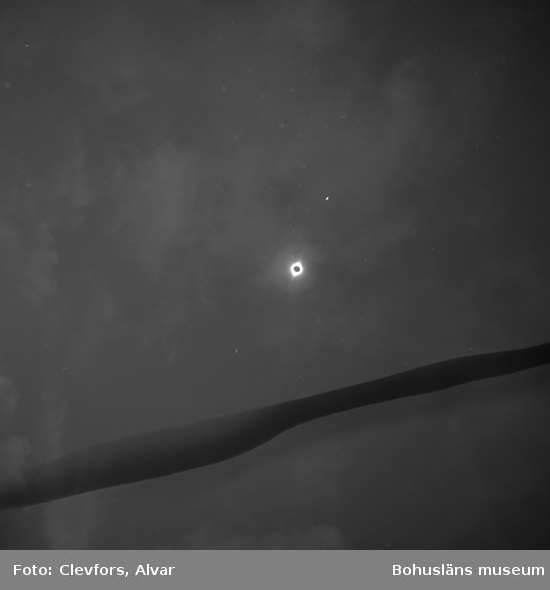 Total solförmörkelse den 30 juni 1954
Credit: Digitaltmuseum
Photographer: Clevfors, Alvar
Fotografi taget i Lysekil samband med den totala solförmörkelsen den 30 juni 1954.
Se även skyddsglasögon UM019507 tillverkade för denna ovanliga händelse.
Uppgift i Kristiansson, Sten. Uddevalla stads historia, del 3, s. 485:
"1851. 28 juli. Total solförmörkelse. Observationsglas säljes av glasmästaregesäll J. Sahlsten och järnhandlare Aug. Stensson, 4 sk. bco. styck."
Object :
Sun and Moon

Date :
1954, 30 June
Time (UT) :
12:47, Sweden + 1 hour
Lens/telescope :
50 mm normal lens ?
Film/CCD :
-
Site :
Sweden, Bohuslän, Lysekil
Comment :
From the notes above, translated to English:
Photography taken in Lysekil in connection with the total solar eclipse on June 30, 1954. See also protection glasses UM019507 manufactured for this unusual event. Information in Kristiansson, Sten. Uddevalla City History, Part 3, p. 485:
"1851. July 28. Total solar eclipse. Observation glass is sold by glass master J. Sahlsten and hardware stores Aug. Stensson, 4 so bco each."
---
Simulation of 1954 years solar eclipse: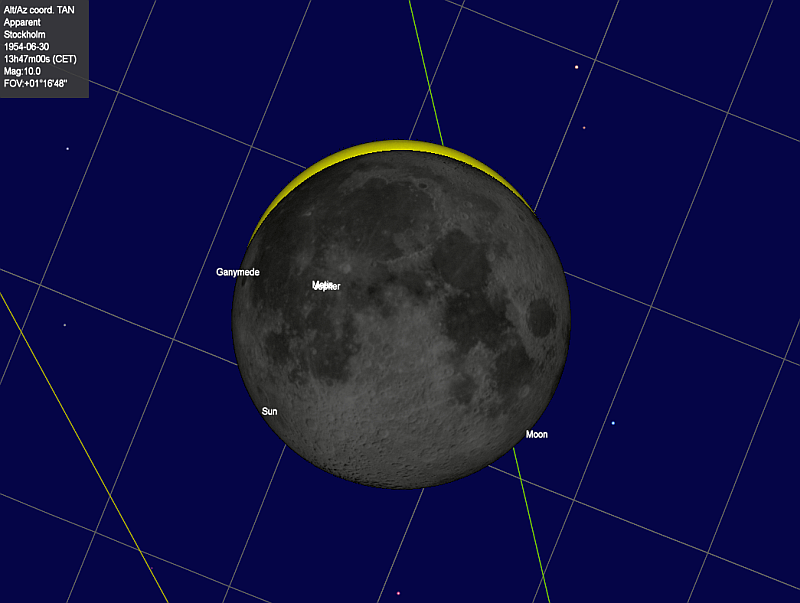 Star chart from CdC (Skychart)

The star chart simulation is the software CdC (Skychart). This is a free software that you can download and do your own simulations, not only solar eclipses.

Solar Eclipse from 1954, this is a simulation how it looked from Stockholm. It was not a total eclipse at this place, but almost. When I did this simulation I see more than the eclipse, behind the Sun is the planet Jupiter and its moons. The yellow line to the left is the orbit of the comet 96P/Machholz. Many things happens on the sky this day/night.
---
1954 years solar eclipse path:
This is the most recent solar eclipse we have had in Sweden, 1954 is not so long back in time. I hope that I can find more photos from the eclipse later. At NASA you can find the path of the solar eclipses.
Solar eclipse path 1954: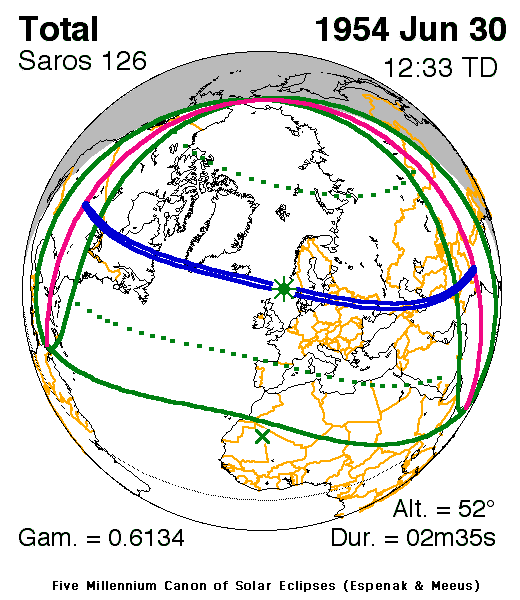 Credit: NASA


This is the solar eclipse from 1954, Saros 126. The path is crossing Sweden in the middle. I wasn't born at that time but I have many older relatives and friends that live along this path.

More to read about Saros cycle:
---
I sent an email to all I know and asked if they had any memory from that solar eclipse 1954 or remember something from their parents or friends. I got many answers and you can read what they remember here:
My families and friends memories from 1954 years solar eclipse:
Evert K (my memories what my father told me):
"It got really dark and I had to turn on the light on the car." He was 35 years old at that time
Mats M:
"I saw the one that was in 1954, I was 7 years old and it was from Urberget in Stuvsta. It was not a total solar eclipse there, but you will never forget it."
Rolf J:
"Since I was only barely two years old in 1954, I happened to sleep midday during the solar eclipse. Insulting!"
Rose-Marie K:
"I remember the solar eclipse in 1954. We were in Västergötland with my grandparents. We looked at the Sun through sooty glasses. I was 8 years old."
Britt-Marie K:
"When I read what my sister wrote I got a weak memory of it, remember the sooty glass. I was 5 years old."
Marianne B:
"I remember it was getting dark, I was 19 years old."
Evert B (Gunilla's memories from her father):
"We were at Södermalm (Stockholm) and witnessed the solar eclipse. I was filled with wonder at something I had never experienced before. It became completely dark and silent. At a later partial eclipse in 1999, I was able to draw some parallels between the events." Evert was 24 years old at 1954.
Bertil N:
"We had sooty glasses and were going to watch the solar eclipse. We stood outside and watched it, it was near Gothenburg and I was 7 years old."
Gunnar L:
"In 1954 we lived in Jämtland, but at the time of the solar eclipse we were on the west coast in Laholm. It's a bit outside of totality. Don't remember much but clearly we couldn't have seen the corona."
Roland K:
"I have a memory of the solar eclipse, could it have been sometime in the 50s. I was at a summer camp for children outside Stockholm when the solar eclipse occurred. We used sooty glass to look through to protect our eyes."
Gunnar H:
"I remember very well the solar eclipse in 1954. I was 10 years old and was with my mother at a lady's house in Smedslätten (Bromma). I was sitting in the garden with a daily newspaper where all the facts about times etc. were described, in addition there was an appendix to the newspaper with a pair of glasses with a cardboard frame with two dark plastic sheets as glass, made so that you could look at the sun all the time without damage the eyes. I don't remember which magazine it was, but it should be possible to get it. The alternative if there were more of you was to take a piece of glass and soot it with the help of a candle, it was also described if I remember correctly. Anyway, I sat there and watched it all without understanding that it was probably the only opportunity in life. As I recall, the total eclipse was not very long. A guess this long time after is 5-10 min, but you can check that for fun. (It was about 2 minutes long, somewhat depending on were you where. Lars). I was fascinated but didn't understand how unique it was, but my parents had said I had to see it. (Thanks). In any case, it was a big deal in all the newspapers."
Lars J:
"My parents had an old dresser with a lot of different stuff in it. Among other things, a sooty glass in an envelope, which I wondered about. Both my father and mother told me about the solar eclipse that they experienced and apparently my father had used the sooty glass on that occasion. Maybe it was 1945 and/or 1954?. They were born 1928 and 1935."
Göran and Inger P:
"We both remember.
Inger's story:
I worked for Inga in Arentorp, she had catering at people's homes. We went out into the yard and it was getting dark, it was cloudy and the chickens were leaving. That's what I remember.

Göran's story:
I worked for the Johnson line's agent in Gothenburg. I cycled over the old Hisingsbron, not the one that was torn down nowadays but the old wooden bridge to Hisingen and up on Ramberget a viewing point on Hisingen. I had bought sooty glass to be able to look at the sun, when it shone. It got dark and the birds fell silent. I'm not sure but I think the street lights came on. That is a memory that remains."
Marita A:
"I have strong memories of that day. A little scary and exciting. My sister, cousin and I were sitting on the lawn outside our house in Södertälje. Dad had sooted glass that we had to look through. We were admonished not to look at the sun. A day I remember from my childhood."
Jan C:
"As for the 1954 solar eclipse, I remember it well. Mom helped us to sot some old glass that we were going to use, but some cracked so we had to take turns looking at the sun. I remember it getting dark and we could see the corona around the sun, but I probably didn't get that excited, even though there was a lot of fuss before. We lived in Trollhättan, so that's where I saw this phenomenon."
Christer J:
"We were at my uncle Erik's place in Helås and saw the solar eclipse through sooty glass plates, I was only 6 years old then."
Hans J:
"I spent the solar eclipse in 1954 with my family somewhere in southern Sweden, on a car and camping holiday. That year the family had bought a new Volvo PV. I don't know exactly where we were when the solar eclipse occurred, but I remember that I thought it was a bit unpleasant, so I cuddled with my mother in the tent. My older brother soot a shard of glass in the backpacking stove, I remember. My second solar eclipse happened in December 2019 in India. We were traveling there and got to experience what Indian newspapers called a "ring of fire". The moon did not cover the entire solar disk, but instead became a narrow, luminous ring. It wasn't completely dark but some kind of ghostly light, like in a disaster movie."
Birgitta G:
"I have faint memories of that day. Remember my dad was involved, we went off to a place I can't remember and were fitted with what I believe were special glasses. I must have seen something but didn't understand what it was all about. I remember it was a solar eclipse."
Ingvar G:
"My memories of the solar eclipse, the nearby telephone switchboard turned on the light because it was so dark. We were collecting hay (June 30, 1954). There were several of us, one was the employee Johansson, the names of the others have fallen into oblivion. I had soot glass to look at the sun with, it didn't last that long, a few minutes. It was dark both before and after too. It was written a lot in the newspapers that you were not allowed to look at the sun without protection glass. Blacksmith Erik Claesson in Ulstorp used his welding helmet. I was 24 years old then."
Anna-Kajsa A:
"What I remember from the solar eclipse, is that all the birds fell silent. It was a strange feeling/experience. I was here at Lillegården in Helås, together with my Grandpa Ernst."
Clas S:
"Actually, I have a memory from 1954 when the parents had bought a brand new VW, absolutely amazing for a little guy. With the car purchase came sooty glasses to study the upcoming solar eclipse, which happened."
Kurt Verner J:
"We lived at the station in Lisbro at the time and as far as I can remember, the weather was beautiful unlike today. We tried to soot glass but it didn't go very well, otherwise it was fun."
Seth I (Written down by Britt-Marie):
"Seth tells about his memories of that day, June 30, 1954. He remembers that day very well. They knew it was coming. It was a beautiful summer day and he was at home in his village in Nattavarra in Norrbotten. He was 16 years old and he and his father and older brother were going to clear the forest and they carried axes and saws with them. They also brought their dog King. They knew not to look at the sun during the eclipse. They brought window glass with them which they sooted over an open fire and which they used to look at the sun. They didn't have any real sunglasses. The father tied the dog to a tree and the dog got a cloth over his head so he wouldn't look at the sun and go blind. It ended in the middle of the day and lasted about 15 minutes-- It was beautiful. The birds stopped singing. It was mysterious."
Thanks a lot everybody, what fantastic memories collected here. I hope that I will receive ever more memories in the future from this solar eclipse 1954.
More to read about the 1954 solar eclipse :
---
Other Swedish total solar eclipses during 20th century:
During the 20th century we had four total solar eclipse, we had 1914, 1927, 1945 and 1954.