IVA
Swedish Royal Engineer Science Academy

Did you know that Sweden has one astronaut?
Update: Translated to English and complement with a lot of links with information.
---
IVA's conference center: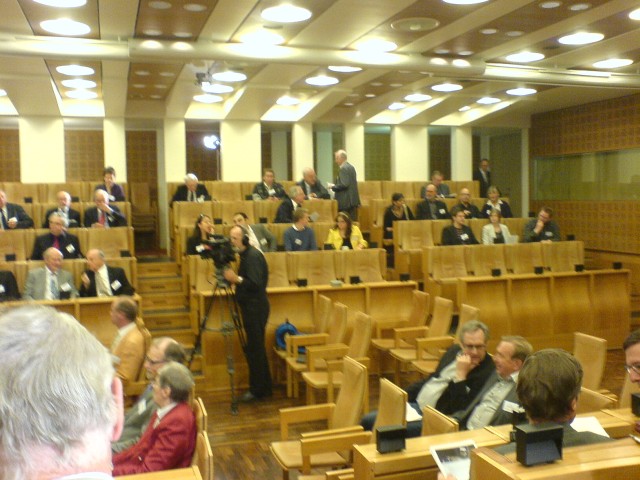 I had the opportunity to participate at IVA's presentation about Space and Sweden's growing ability to contribute with technology and research. Even more exciting was that Christer Fuglesang was one of the speakers, Sweden's only astronaut who also served up two times.
---
Björn O. Nilsson: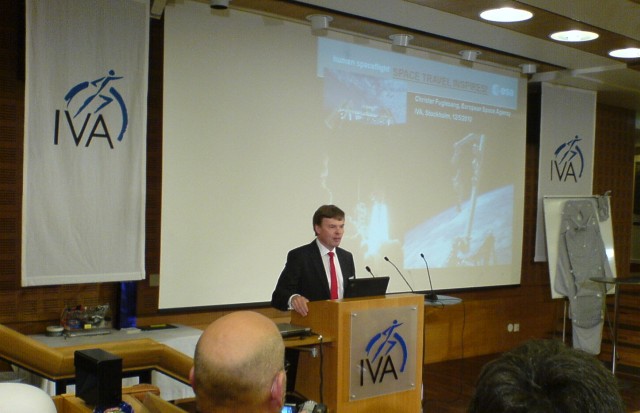 Björn, chairman of IVA initiates the speech.
---
Christer Fuglesang, space shuttle launch: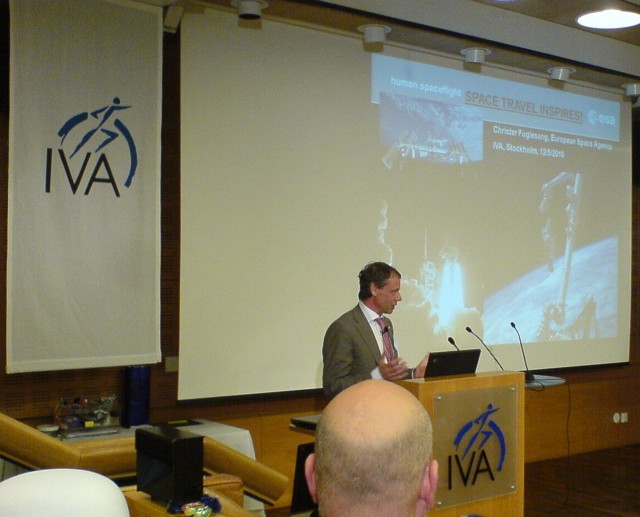 Christer begins with a video of the space shuttle launch, some problems arise. The room are far too enlightened this day because of the video recording is going on. After a while they manage, however, to dim the lights slightly.
Christer talks about the dramatic launch, violent vibration when the 25 million horsepower push on. This phase, however, last no more than 8 minutes, then there is peace.
---
Christer Fuglesang, heat shield: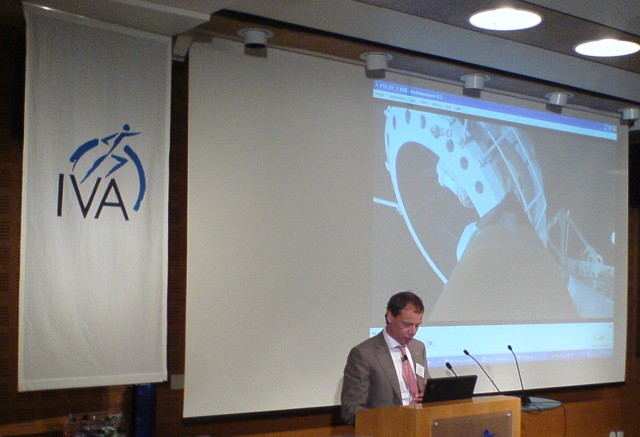 Before the space shuttle docked with the ISS (International Space Station) the very important inspection of the heat shield must be performed. Remember the tragic accident that occurred in 2003, the space shuttle broke apart during re-entry into the atmosphere because of damage to the heat shield.
---
Christer Fuglesang, ISS: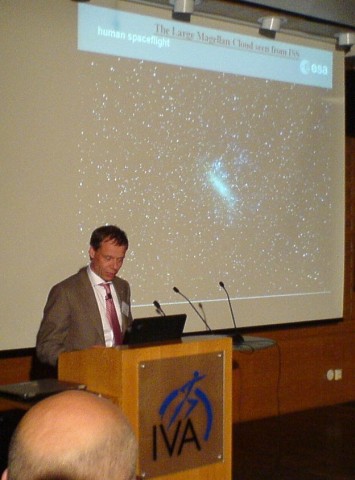 The space station is nearly completed today (2010). Some data:
The air pressure in the station is the same as here on Earth at sea level.
Electric power 80 kW.
Orbital inclination 51.6 degrees.
Orbits at a altitude of 350 to 400 kilometers.
Crew 6 man / women.
Space Station will be in use until 2020 or longer.
---
Christer Fuglesang, space shuttle's end: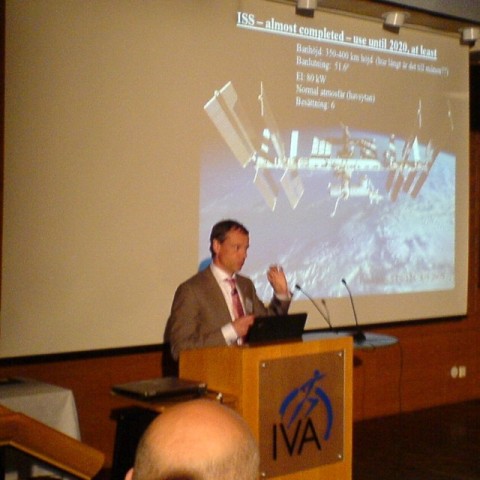 Today, only three rides left to do with the space shuttles before disposal, including these days going on flight. They have been in operation for 30 years. After this, the U.S. has no own craft to take up crews to the ISS. It is only Russia that can provide this.
Space Shuttle was unique in that it also could bring their payload down to earth again. Now a bigger problem than getting it up how strange than it may sound.
---
Christer Fuglesang, ESA: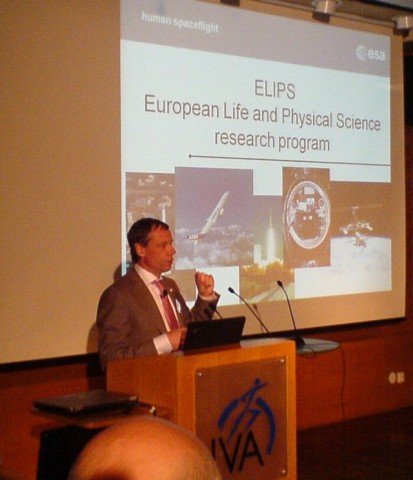 Christer talks about ESA, the European organization and how it works, including the research.
---
Christer Fuglesang, Esrange: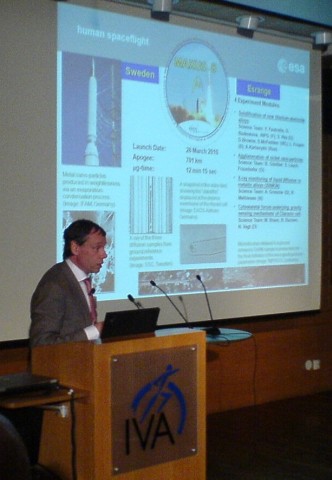 At Esrange in Kiruna has advanced space research. It include a rocket Maxos 8, with it, they can send up experiments considerably higher than what the ISS is, 700 km. Such a postponement lasts 12 minutes and is used for materials research in low gravity influence.
---
Christer Fuglesang, strategic plan: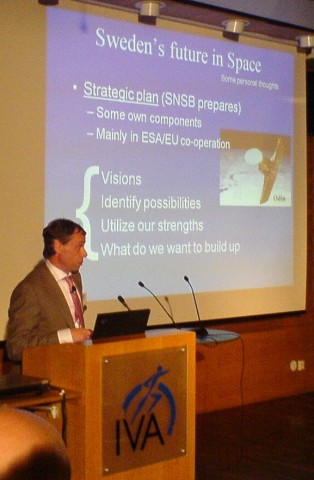 Christer calls for a strategic plan, the Swedish industry and the vision to be able to make important contributions. Works that are supposed to be in cooperation with the EU and ESA.
---
Christer Fuglesang, ATV: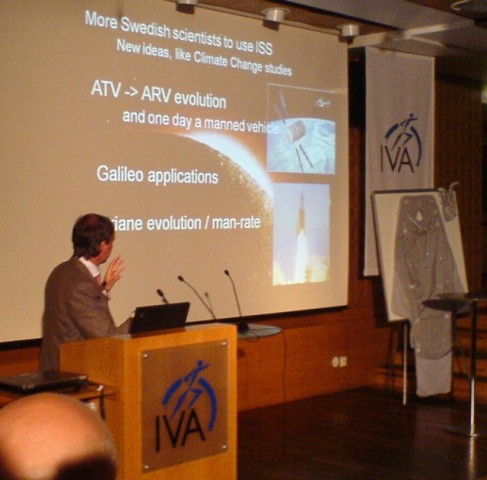 Christer talks about how ESA Transfer Vehicle ATV may be able to develop into a manned craft.
We need to get the ideas how Galileo be able to provide useful new applications. Galileo is Europe's answer to GPS, and is much more powerful.
Ariane development, can we get the launcher rated for manned transport in the future?
---
Cecilia and Anna, sustainabodity and Pavlo 3D builder: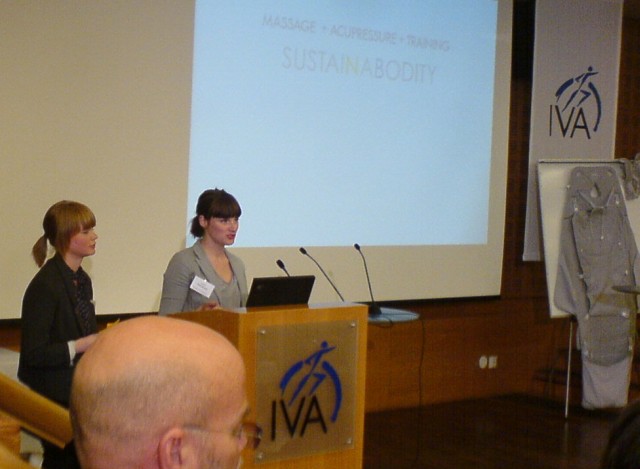 Cecilia and Anna from Lund University told of a "sleeping bag" will be used in the weightless state. It has aroused great interest in NASA and function is to relieve the gravity free impact on the body with various clever and thoughtful features. You see it in the far right of the picture.
Earlier Pavlo from the same university told of a 3D machine (like a 3D printer giant) that can be used to build buildings on the moon with the materials which are there. It merges selected moon dust using microwave radiation. A very good animation of how this came about was displayed. If I find a link to it I place I it here later.
---
Sven Grahn, what is next step for Swedish industry?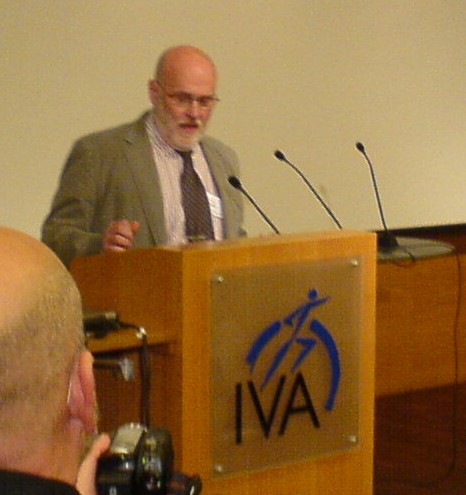 Sven, advisor at the Swedish Space Corporation. Stated that he only had 4 minutes to deliver his message. He told of how the Swedish high-tech small smart solutions is a way to go. Sven felt enough that large organizations are too bureaucratic and devour money. The four minutes became to 20.
---
Panel discussion: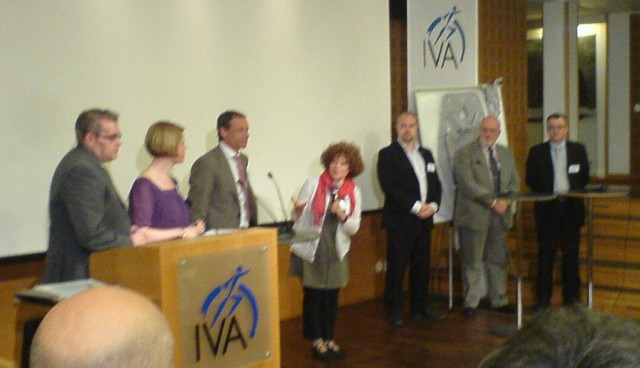 Joanna Rose from the newspaper Research and Progress as moderator began the panel discussion. Talk about problems, how small companies opportunities to implement projects and part of the research money raised.
---
Christer Fuglesang, questions: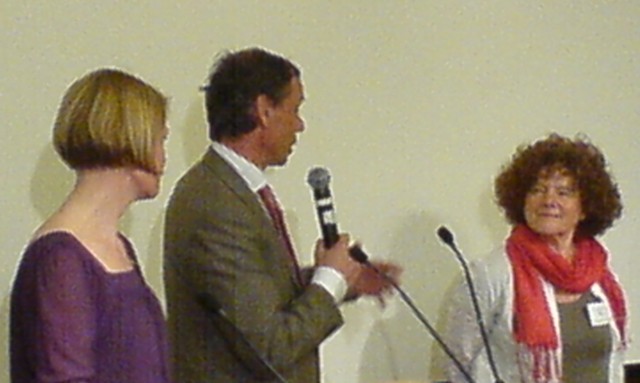 Christer answer questions. He has previously stated that he would like more Swedish researchers that will utilize ISS opportunities.
---
Karin Nilsdotter, representative for Spaceport Sweden: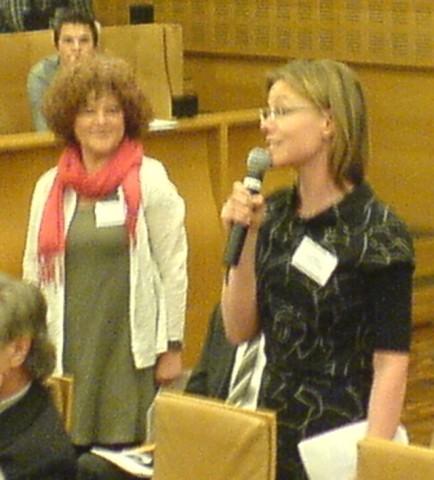 Karin reported that their vehicle can perform parts of the experiments currently taking place with the traditional rocket technology, and that to 1:10 of the costs. Space Sweden is a private operator.
After the meeting ended, I had the opportunity to talk to Christer Fuglesang, asked about the connection he currently has with NASA. He replied that it is now completely finished. His is not doing any research today directly, works more like the Research Advice does.
At the meeting I also met an old acquaintance, namely Bernt from UR (Swedish Televison, Utbildningsradion). He has made several exciting documentaries about space for Swedish Television, something I remember from when I was just a child. Yes, already since 1967, he said. I met him at the observatory NOT on La Palma in Spain 1997. I will maybe come back with more information later.
He invited me later to Utbildningsradion and told me about his work under all years.
---