Helmut's restoration project:
C. G. Pettersson designed mahogany cruiser with a modern touch
Page during work, come back once again later!
---
Content:
1, Introduction, a Pettersson cruiser from Sweden:
Exhibition at Lidingö Museum about Boghammar's marine, May to October 2019.
Introduction:
One day I got an email from a visitor of the page about my fathers Pettersson (Victor Israelsson design ?) cruiser Monalisa. It was Helmut from Switzerland who emailed me. He told me that he had bought a C. G. Pettersson designed old mahogany cruiser in Sweden. He had transported it all the way down to Switzerland, now you think, what use of a boat in Switzerland, it's only mountains down there, or? Helmut explained for me that there are a lot of lakes and rivers where you can have your boat.
We sent emails back and forth between us, I asked him questions and Helmut replied. After a while I felt this was a fantastic project and I want to share it with others. Helmut didn't have the opportunities to make his own web site, so I offered him to do it if I could use his photos. It's too far for me to travel to Switzerland and take my own photos.
A big question when you buy an old boat like this, shall I restore it to its original standard or shall I make a practical modern cruiser of it? Helmut did the latter, the same decision as my father did 50 years ago with his Monalisa.
Here you can follow Helmut's restoration project and the research I and Helmut has done with comments from others who has something to share. Photos with comments from Helmut.
The name of the boat is Sindbad:
---
A C. G. Pettersson cruiser from Sweden:
First images show how the boat looks when Helmut picked it up from Sweden.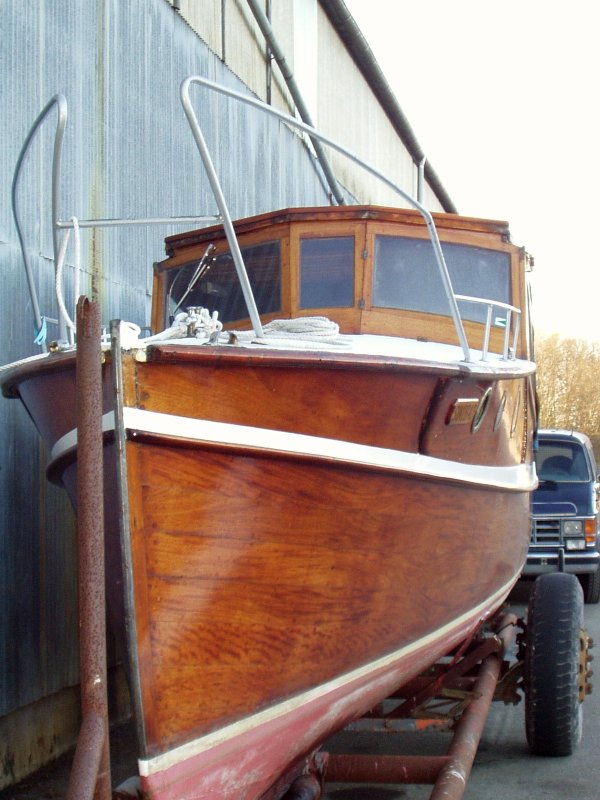 Helmut tells:
I bought a C. G. Pettersson designed boat in Stockholm in 2004. The boat is 10.3 x 1.84 meters, totally built of mahogany.
According to information from the Swedish Maritime Museum:
Drawing number: 344
Type of boat: Motorkryssare
Engine: 16 hp Tellus motor
Manufactured to: Grosshandlare Helmer Langborg
Place: Stockholm, Sweden
Drawing date: December 7, 1914
The boat was renovated and rebuilt already earlier in Sweden many years ago. Your posted image (of Monalisa, comment Lars) on the Internet has a lot in common with my Sindbad.
---
As you see on the photo below the cabin has already been rebuild in Sweden. The original windows must have been much lower and smaller, in the same way it was on my father's boat.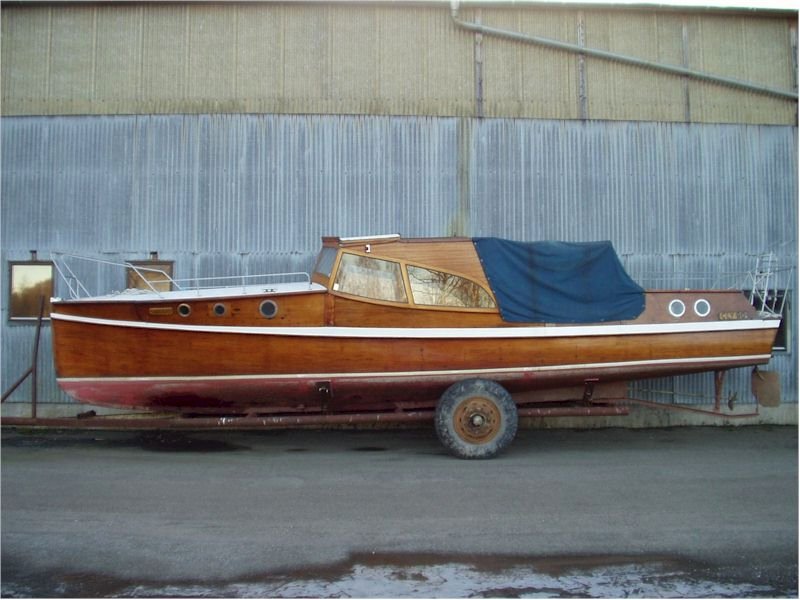 Helmut tells:
I have a lot of interest in learning about the history of my boat. On the photos above are the Sindbad as I bought it from Sweden.
Helmut is very eager to know the history of his C. G. Pettersson boat Sindbad, if you know something to tell, make a contact (you can write in Swedish if you prefer). I can add the information on the page if it's relevant, or just as a private message.
All photographs taken here on the boat Sindbad are owned by Helmut, they are used here with his permission.
---
Earlier owners:
In January 2019 I came in contact with Willy and Rasmus, two of the earlier owners of Sindbad. They could tell us more of the history about Sindbad.
Willy tells:
I remember that I spent a lot of time to keep the hull surface in good condition. The engine was a Peugeot diesel, the sound from it was loud and I wish it had been a quieter Albin gasoline engine instead. What I know the boat have had the name Sindbad all the time. According to a paper I got when I bought Sindbad it was mention the year 1932, maybe the year Sindbad was built. In the 1960s they built the new windows and the aft cabin.
Rasmus tells:
I had Sindbad just for a short period, bought it in the fall and used it one summer.
Earlier owners:

1980 - 1991: Unknown, but he lived in Kungsör, Western part of the lake Mälaren
1991 - 2002: Willy, Kvicksund, Western part of the Lake Mälaren
2002 - 2004: Rasmus, Kungsör, Western part of the lake Mälaren
2004 - ....... : Helmut in Switzerland
See, always it come new information. But the year 1932 can not be when Sindbad was built, maybe a big restoration. Maybe the years in the table above are wrong, I correct it later.
---
Here is information that I have found for Helmut:
Here is C. G. Pettersson (in Swedish):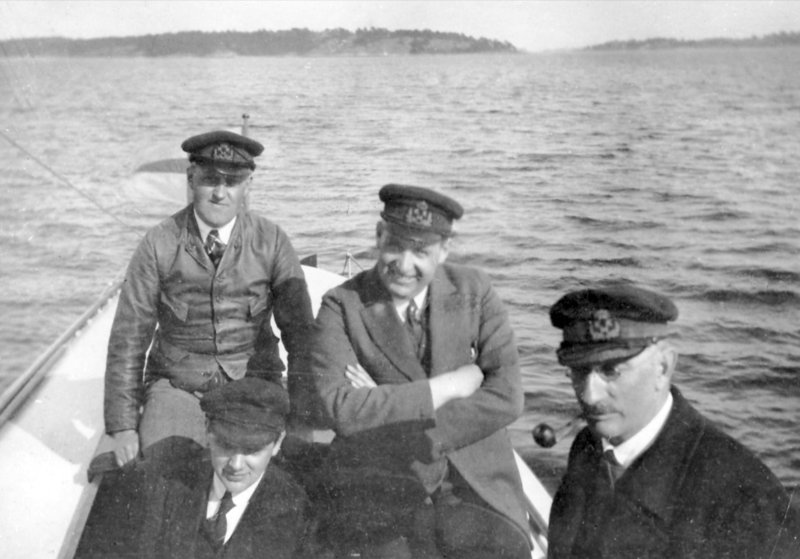 Pettersson, C. G. (1876 - 1953):
More information about C. G. Pettersson at Wikipedia (sorry, only Swedish):
You can easily recognize a C. G. Pettersson designed boat, long and very narrow wooden boats.
I found also this list of drawings for C. G. Pettersson designed boats (only Swedish):
---
C. G. Pettersson drawing 344 (In Swedish)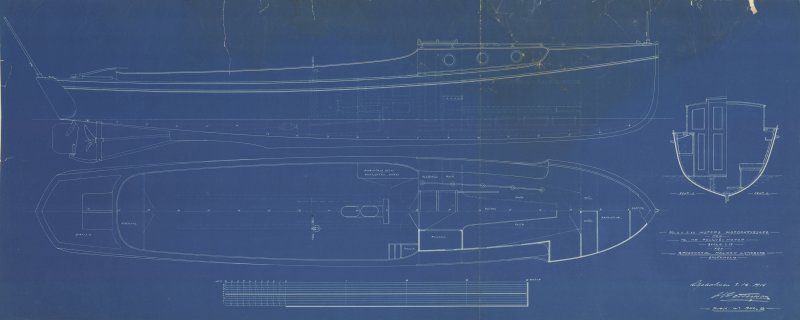 Ritning C. G. Pettersson. Båttyp: motorkryssare, Längd (meter): 10,3, Bredd (meter): 1,85, Maskinstyrka: 16 HK Tellus.
---
I have found a link about Tellus motor (in Swedish):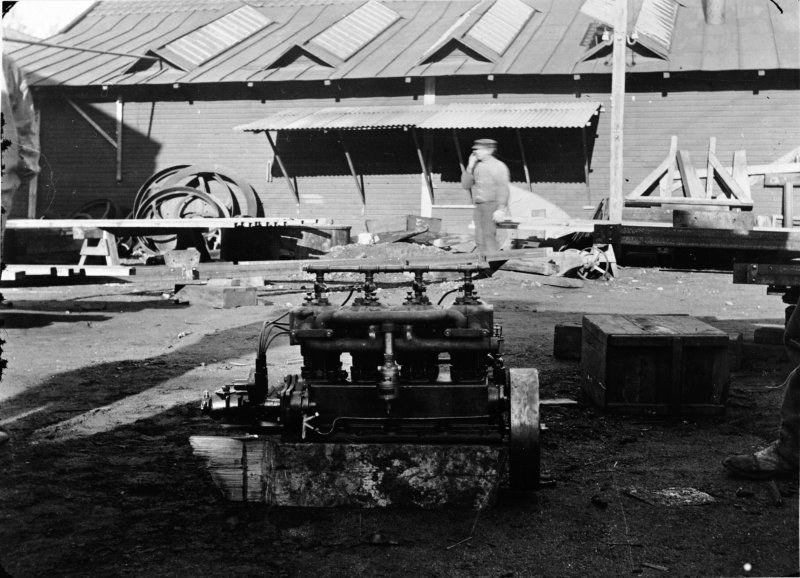 "Tellus"-motor (bensinmotor) tillverkad vid Morgårdshammars Mekaniska Verkstad 1910.Konstruerad av E.Hubendick.
Fotograf: Okänd
Translated:
"Tellus"-engine gazoline engine, manufatured at Morgårdshammars Mekaniska Verkstad, year 1910. Construction by E. Hubendick.
---
This was interesting to know what Helmut has found about his boat. According to Christoffer who had done research about his C. G. Pettersson boat Norröna (Ingalena) it was the same Helmer Langborg who also let build Christoffer's boat. Then also the sister boats, my father's Monalisa and a third one, Elinor.
I did some research about Helmer Langborg and found that he around the year 1914 lived in Stocksund in Stockholm, he was born 1870. Helmer didn't for sure use these boats himself, just ordered them and sell them through his company AB Helmer Langborg with an office at Birger Jarlsgatan 8. The builder of the boats was the shipyard Gustafsson and Anderssons at Lidingö in Stockholm (the company exists still today with the new name Boghammar), design and construction from C. G. Pettersson drawings.
Here is a portrait of Helmer Langborg (in Swedish):
Here is information about Gustafsson and Andersson's shipyard (in Swedish):
Here is Christoffer's web page about Norröna (Ingalena), it's in Swedish:
When I contacted Christoffer again 2018 he told me that he had sold Norröna and bought the much bigger Thelma C. G. Pettersson boat which is also on the above link.
---
At which shipyard was Sindbad built?
I don't know yet, maybe at Andersson & Gustafssons shipyard.
Map with shipyards and a list which of them who built Pettersson boats:
---
Here is more general information about Swedish classic wooden boats, they are in Swedish:
---
Svenska sökord: salongsbåt, motorkryssare, träbåt, båt, motorbåt, pettersonbåt, mahogny, furu
---