My travel in Europe:
Lisbon in Portugal
---
Five days by walk, bus and tram in Lisbon, 2018
---
Day IV and V, Lisbon and Tram elevator, Aqueduct Livres, Aquarium, Going home:
Google Map over our walk and tram trip today:
---
Miradouro de Santa Luzia: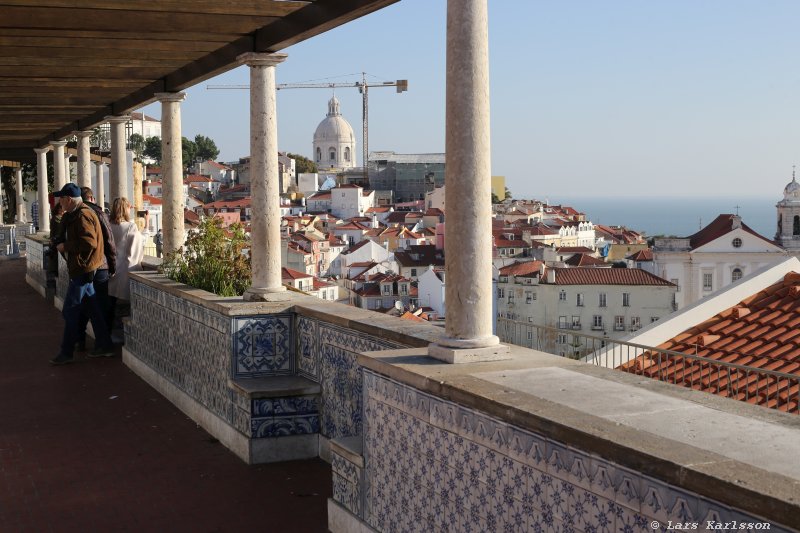 As usual we start with view over the Atlantic ocean across the street where we stay, today the weather is great!
---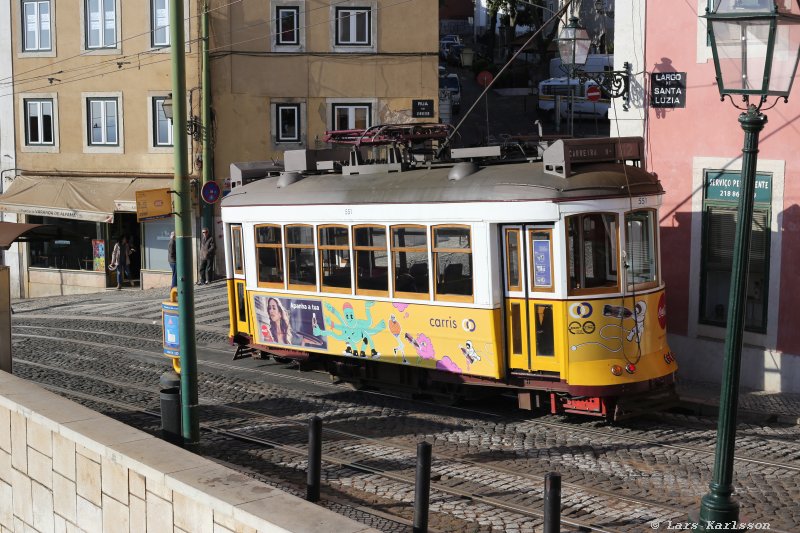 First stop for us today is to have a look at those lift trams, there are three of them: Ascensor da Gloria, da Lavra and da Bica. We take tram no 28E to the first one, Gloria.
---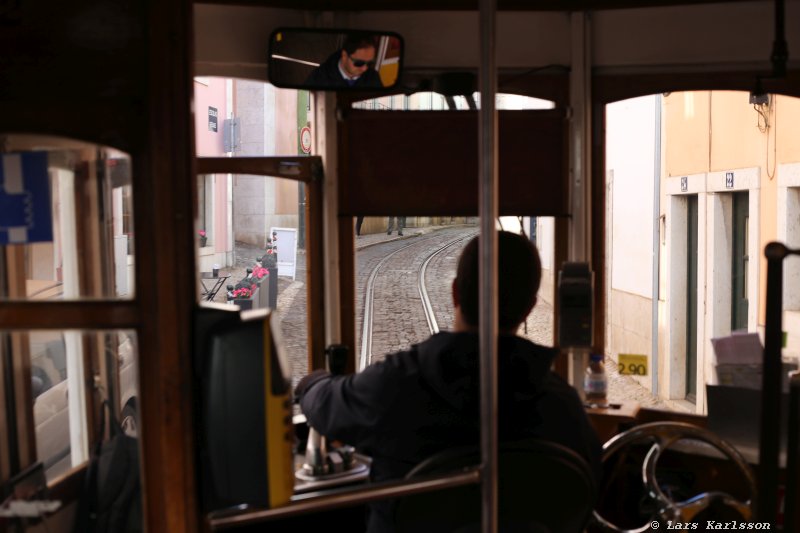 The street are very narrow and no cars or trams have place to pass by us.
---
Sao Domingos square: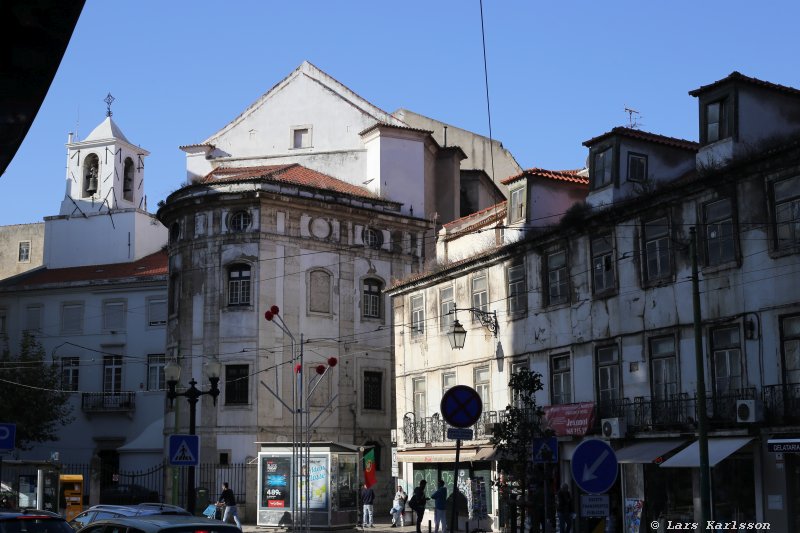 We jump off the tram at square Sao Domingos. We then take a shortcut through the small alley you see in center of photo.
---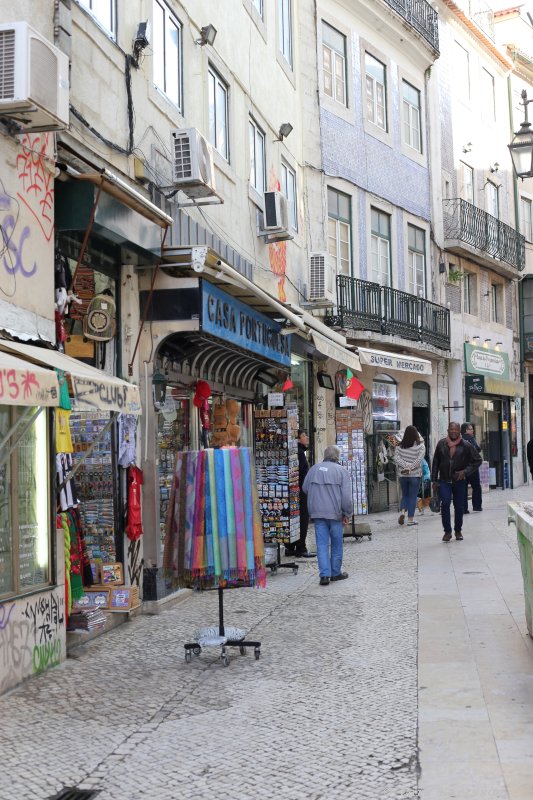 ---
Rossio: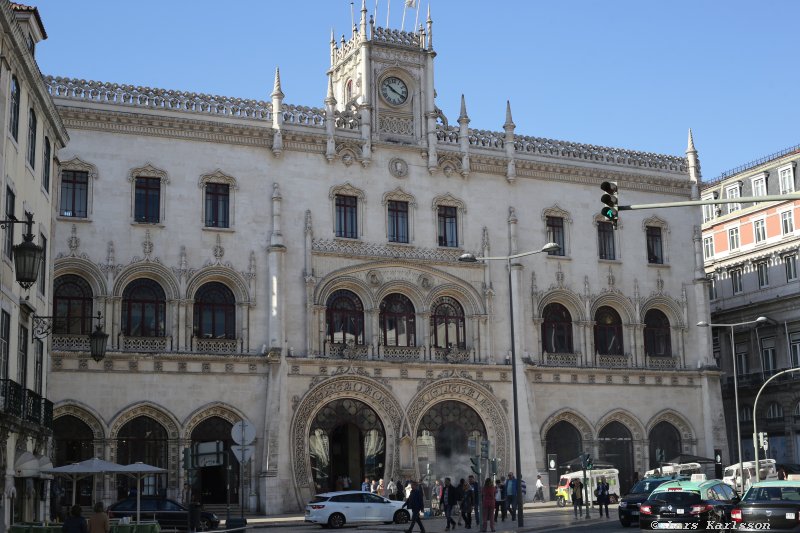 We try to figure out what this house has been used to when it was new.
---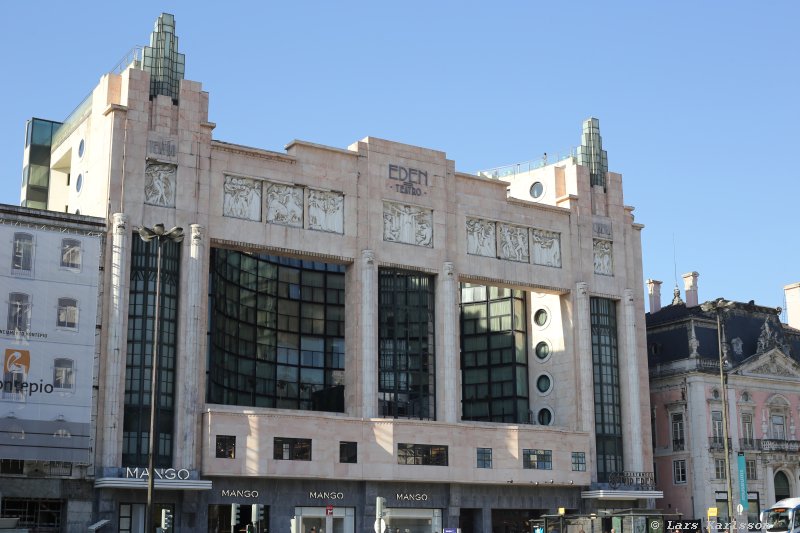 This is the theatre Eden. In the alley to the left we have our first lift tram, Ascensor da Gloria. After a while it started to climb upwards but after 20 meters it stopped, we waited 15 minutes until we gave up.
---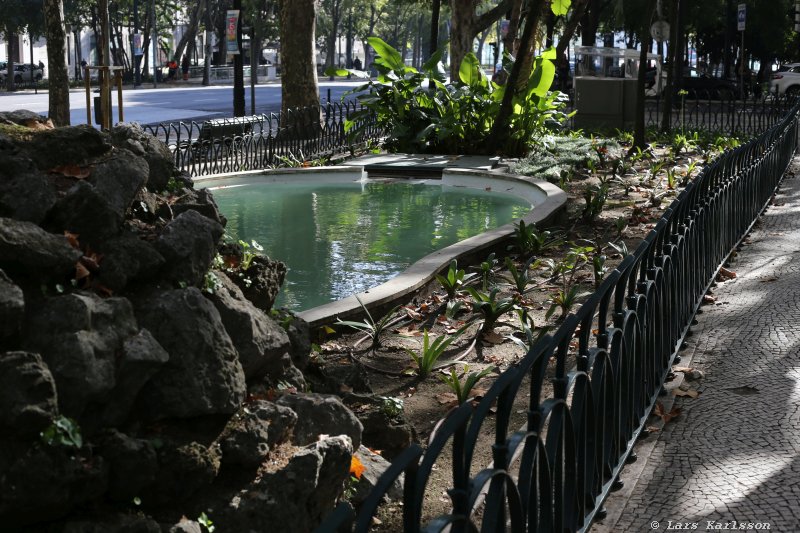 We have the second lift tramp just across the street, Ascensor da Lavra.
---
---
Lift tram, Ascensor da Lavra: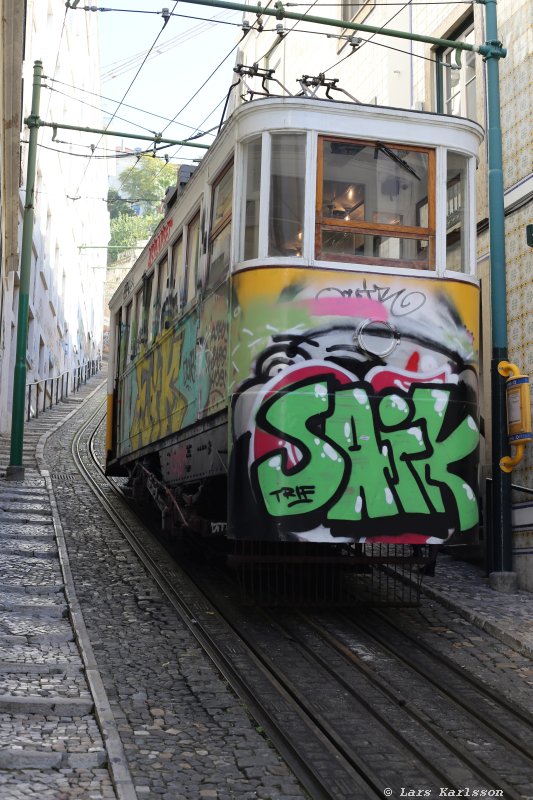 Better luck this time, not that crowded with people. When we got onboard Gunilla figure out that we could use our 24 hours tickets. What we had read it shouldn't include the lift trams.
---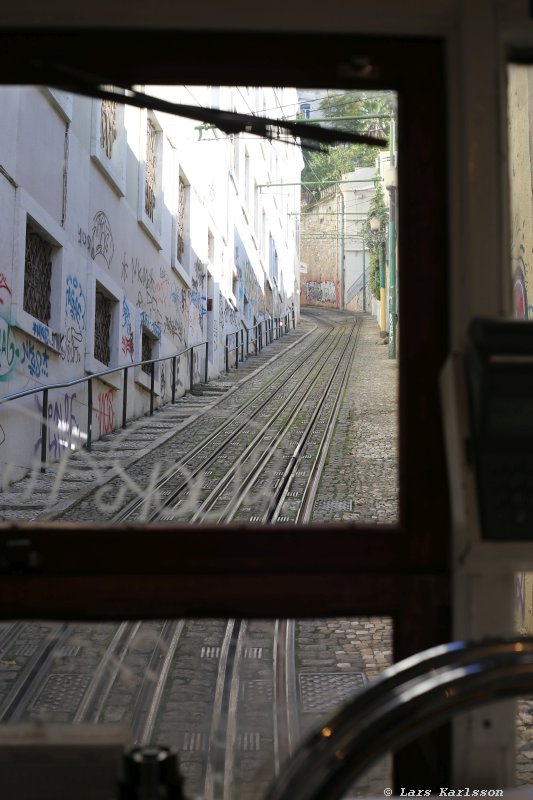 ---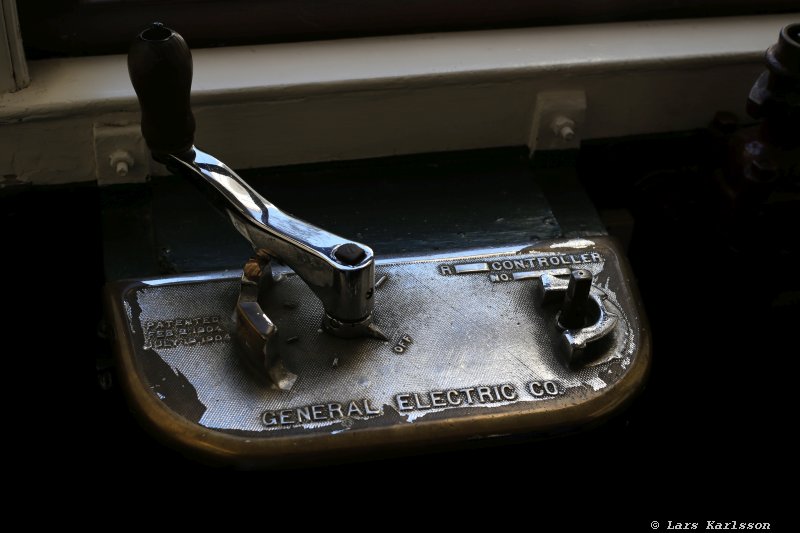 Still working after 114 years, we try to figure out how to drive this tram. Not many controls for it. The big handle is the start and stop.
---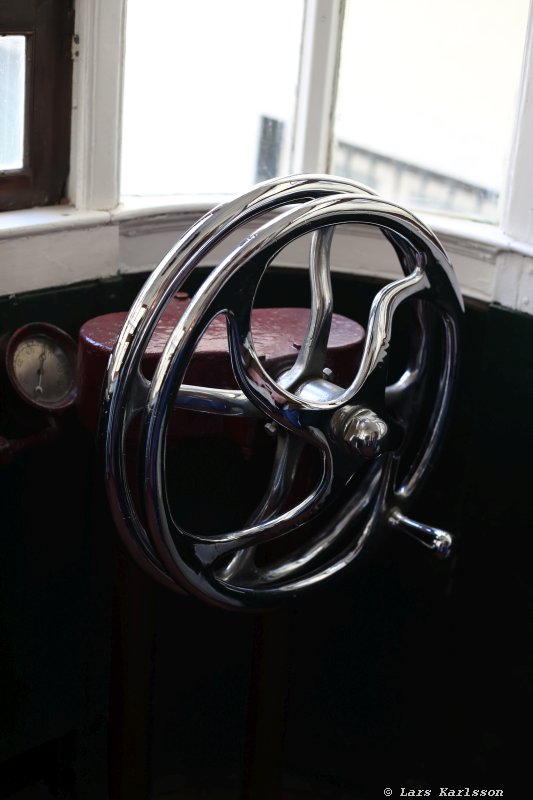 All normal trams we have seen only have one of these wheels. I think it's the parking brake.
---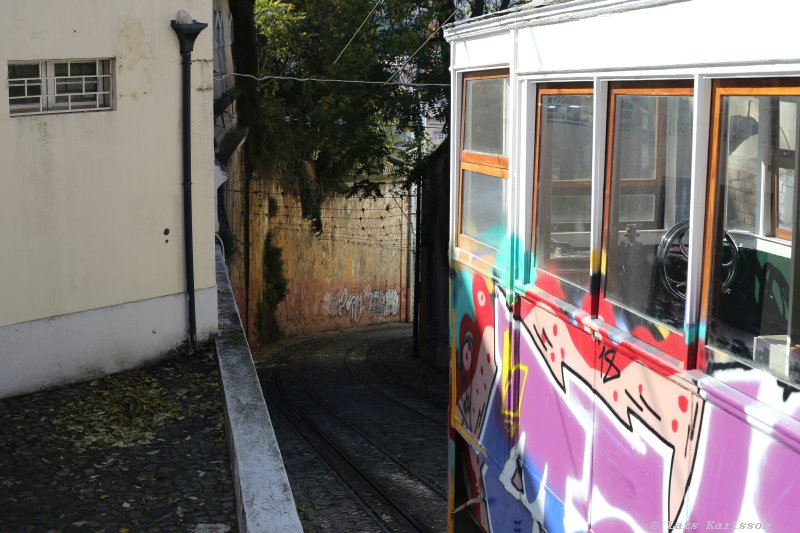 Narrow street but still allowed to walk here together with the tram.
---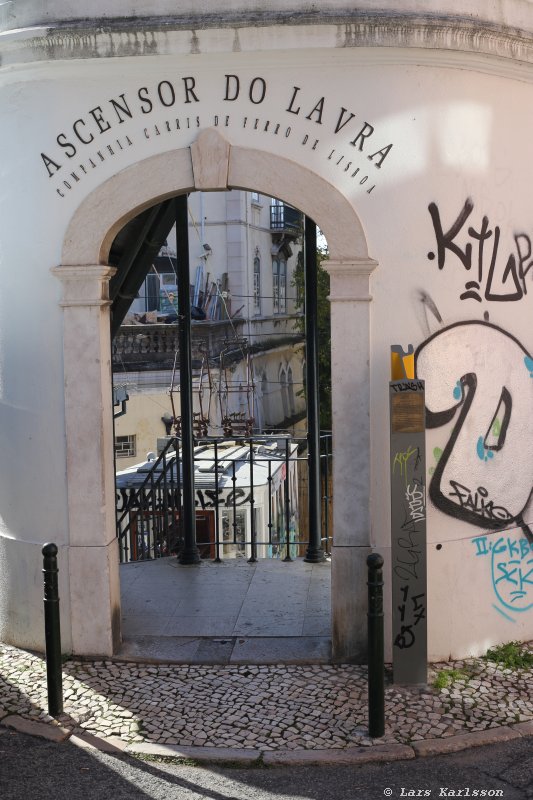 More to read about Ascensor da Gloria at Wikipedia:
---
Jardim Braancamp Freire: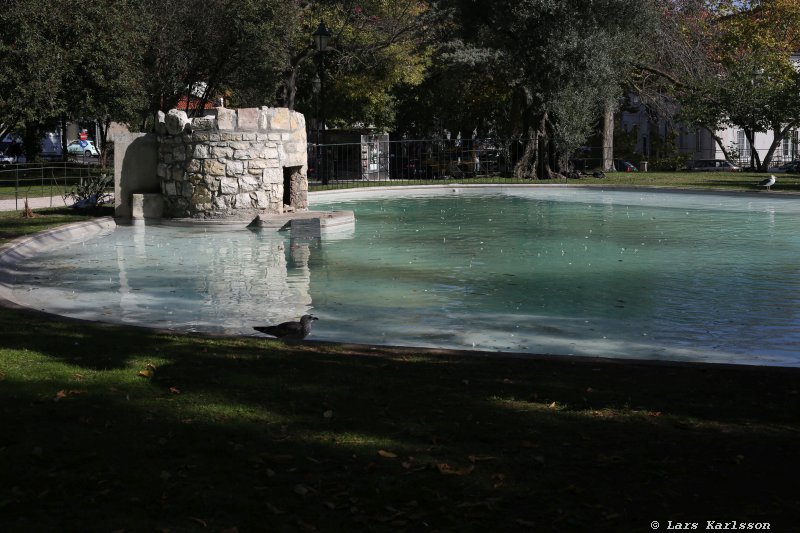 A stop in the park for coffee, Coca Cola and sandwiches.
---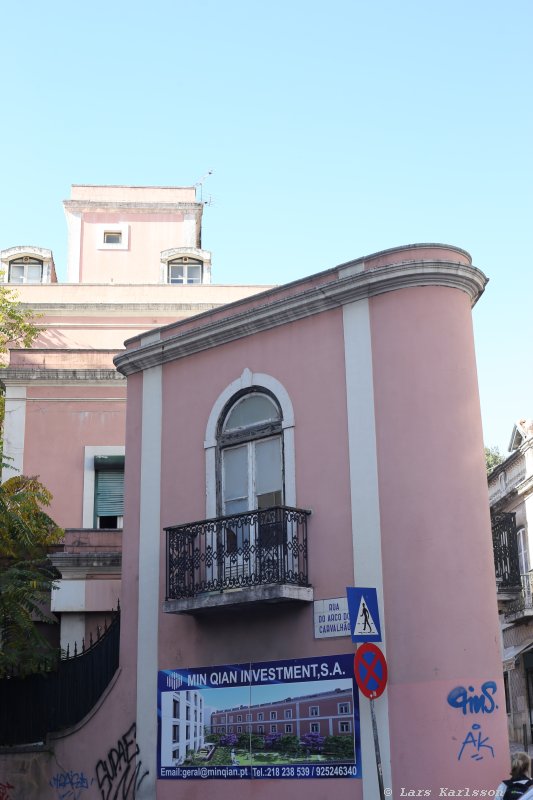 After the break we took bus no 723, we want to visit the Aqueduct Livres.
---
Aqueduct Livres: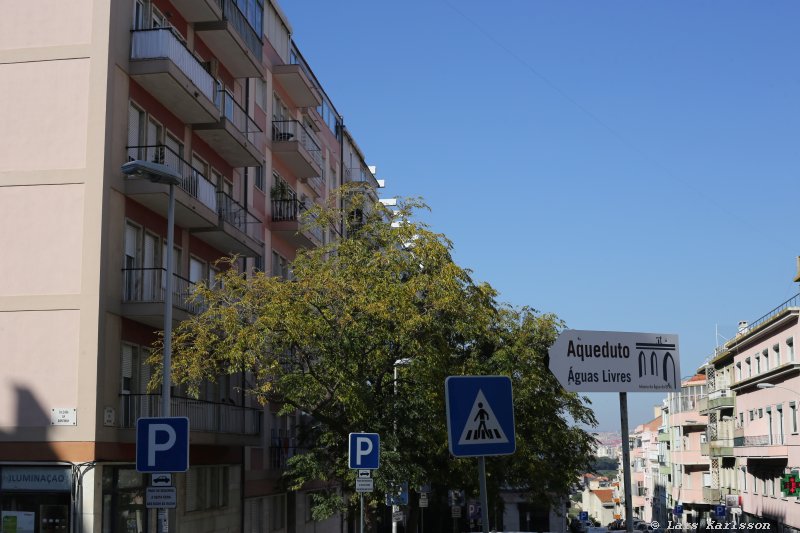 We got a strange feeling that we was lost in the alleys, an aqueduct is really big, how can it be here? At last we saw this sign.
---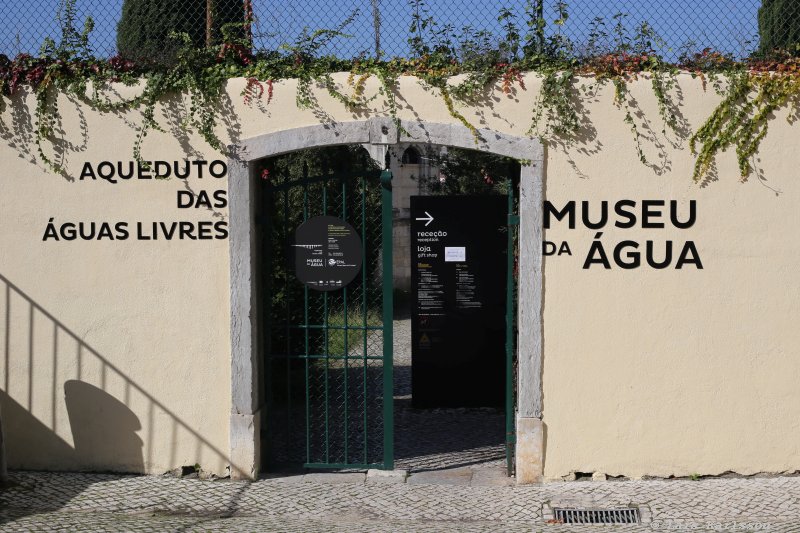 This was not what we expected, it's a museum. We could not get a front view of the aqueduct, but we could walk on top of it, exiting! We find the information that the aqueduct is almost 1000 meters long.
---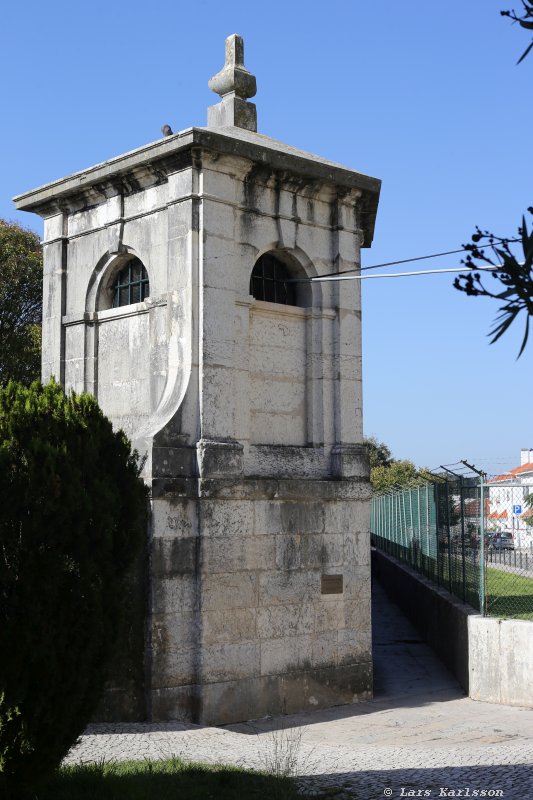 More to read about Aguas Livres Aqueduct at Wikipedia:
---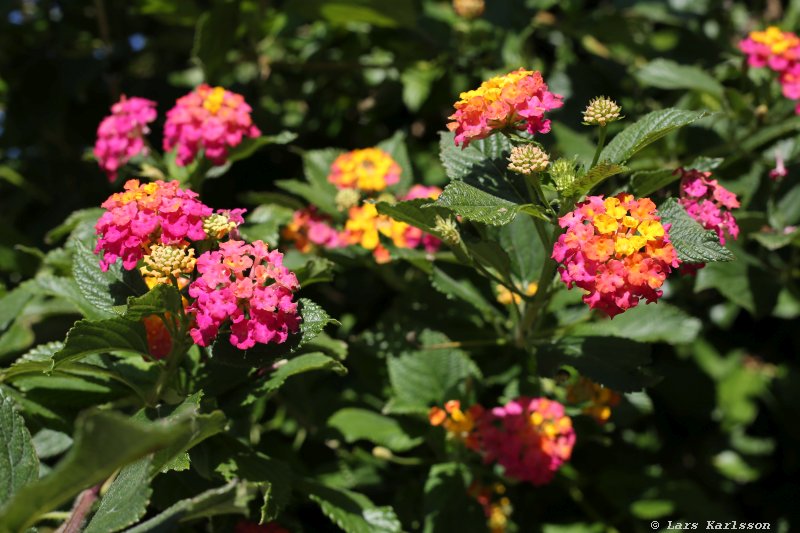 Today they only use this water to the Lisbon's fountains. Not drinking water.
---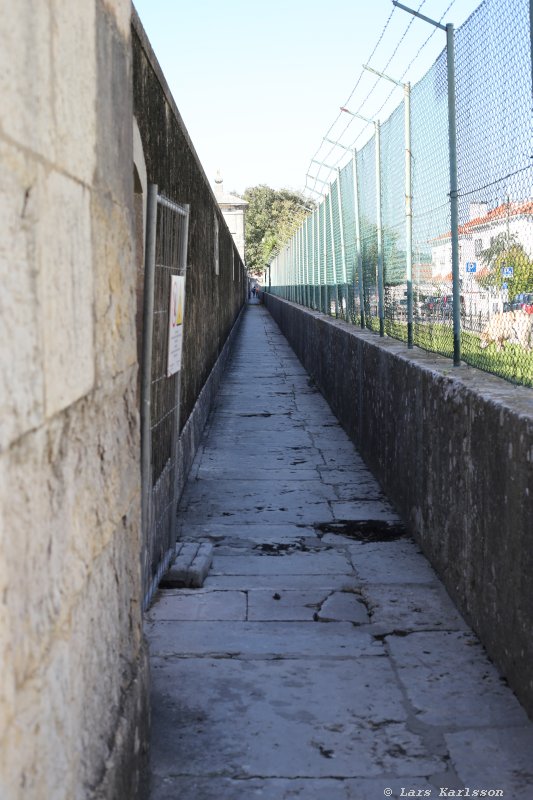 ---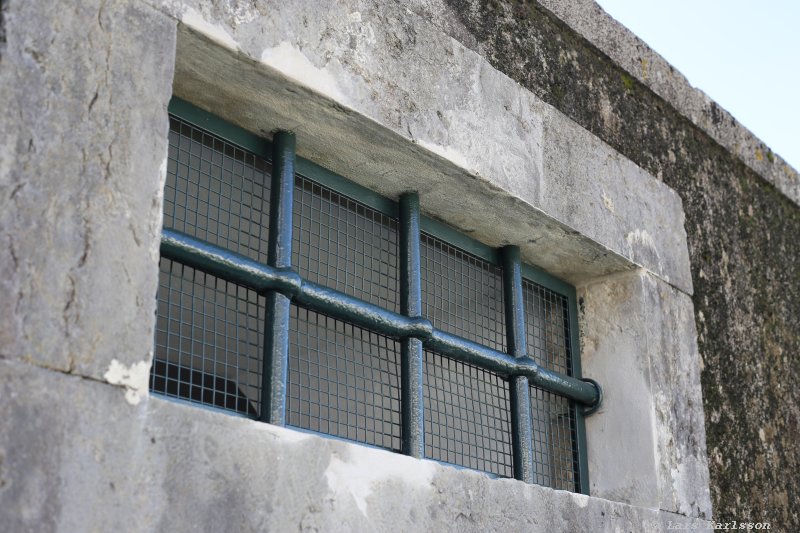 Ventilation shaft to the water.
---

Panoramic view from the Northern side.
---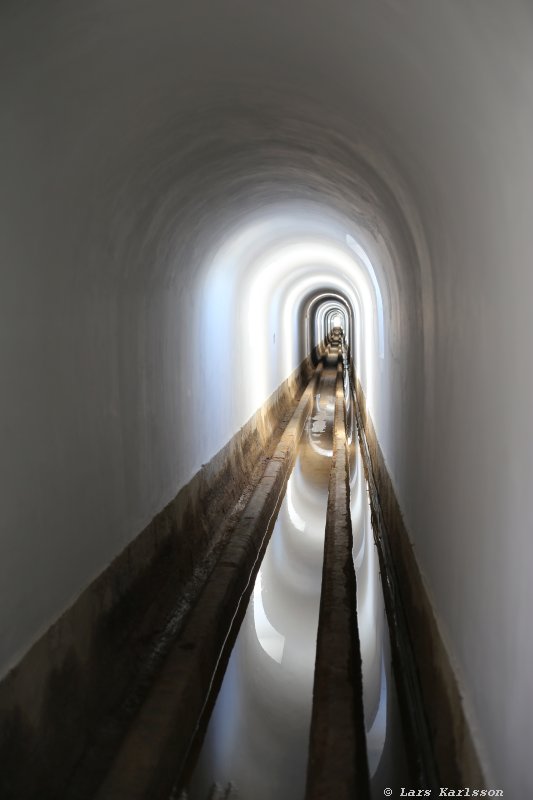 At the middle of the aqueduct there was an opening to the Southern side. When we go through here we see the water channel inside it, what a tiny channel, expected it to be much bigger.
---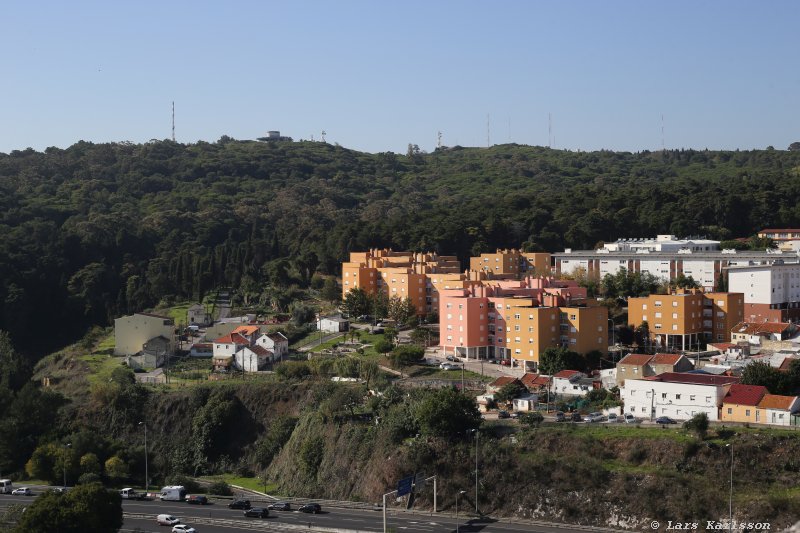 Behind this mountain should the observatory be that we visited yesterday.
---
---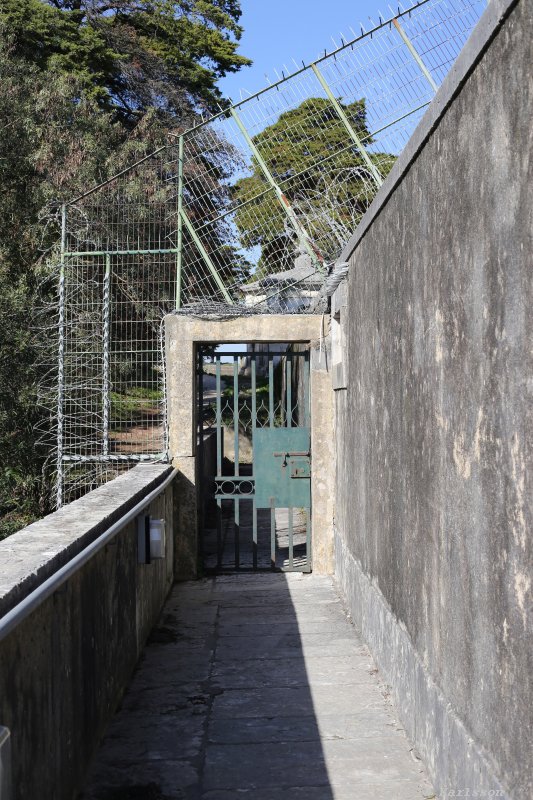 Our plan was to exit here and take a bus back to Lisbon center, but it was locked. Just to walk another 1000 meters back.
---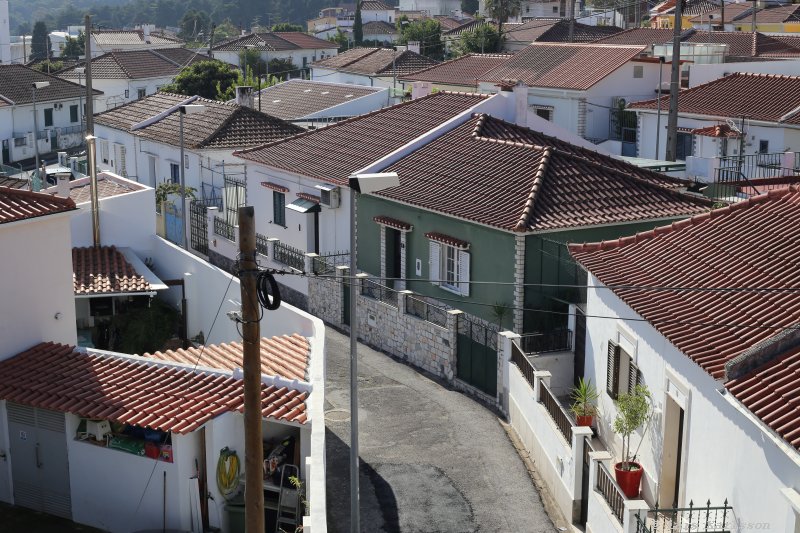 ---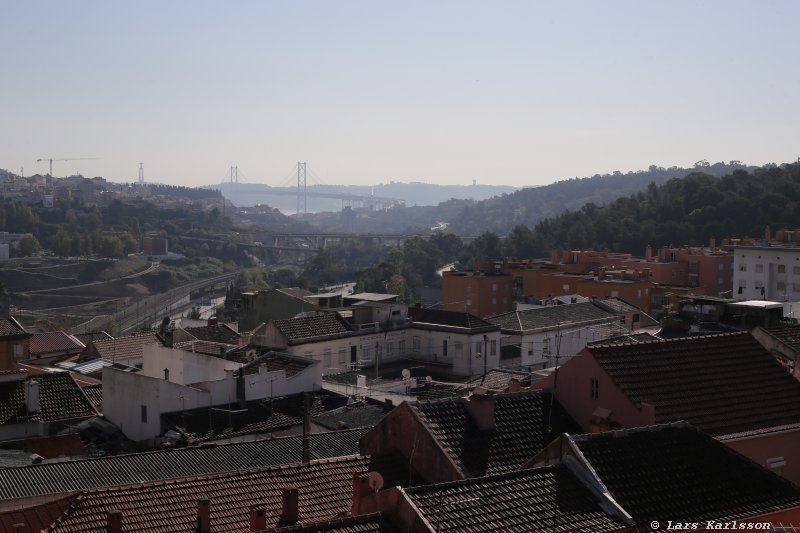 From here we also get a view over the bridge Ponte 25 de Abril.
---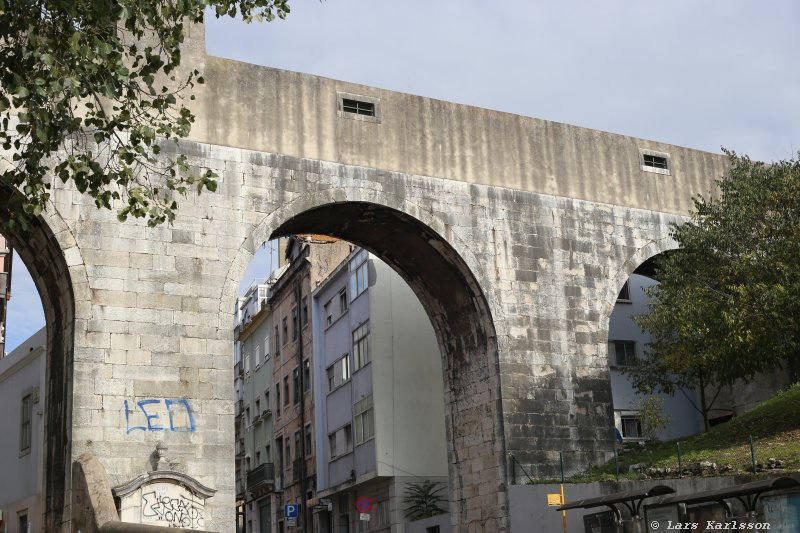 When we was finished with the aqueduct visit we took a walk to the bus that shall take us back to tram no 28. Once again we get a view of the huge Aqueduct Livre.
---
Tram 28E: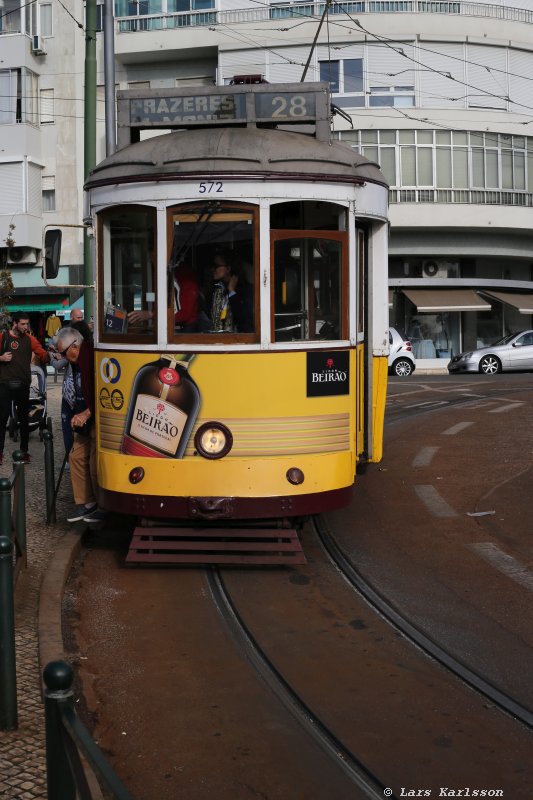 A lot of people waiting to get inside the tram. We was a bit slow to enter, but still we got seats.
---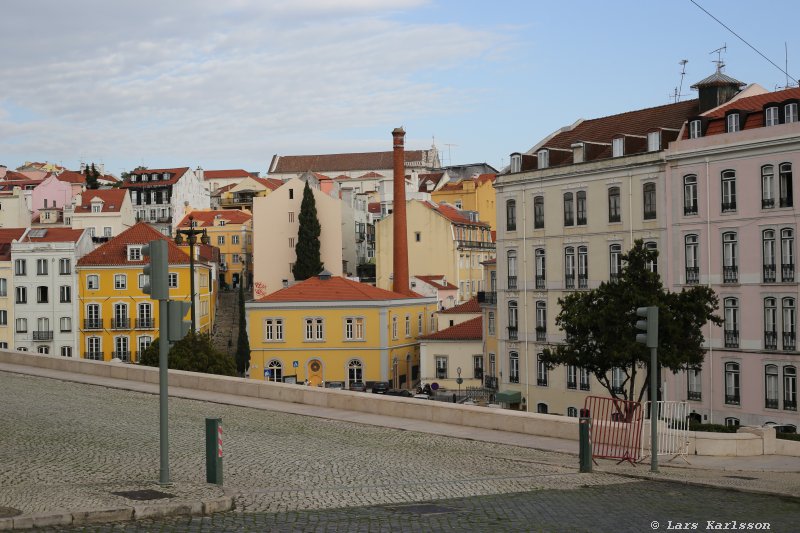 With a window place I got better chance to get good photos. A warning, don't hang out through the window, very narrow passages and you can get your head snapped off.
---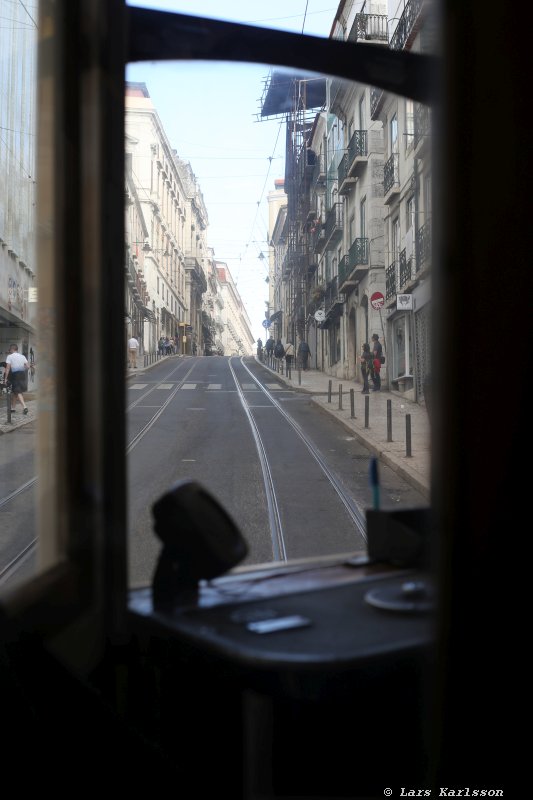 It goes upwards.
---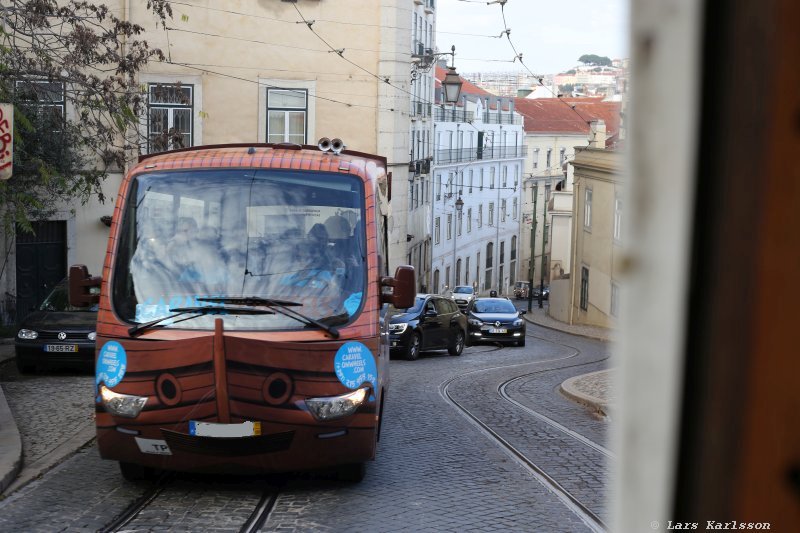 And it goes downwards. We jump of at the big square and took bus no 728 to the aquaria that we want to visit.
---
Oceanário de Lisboa: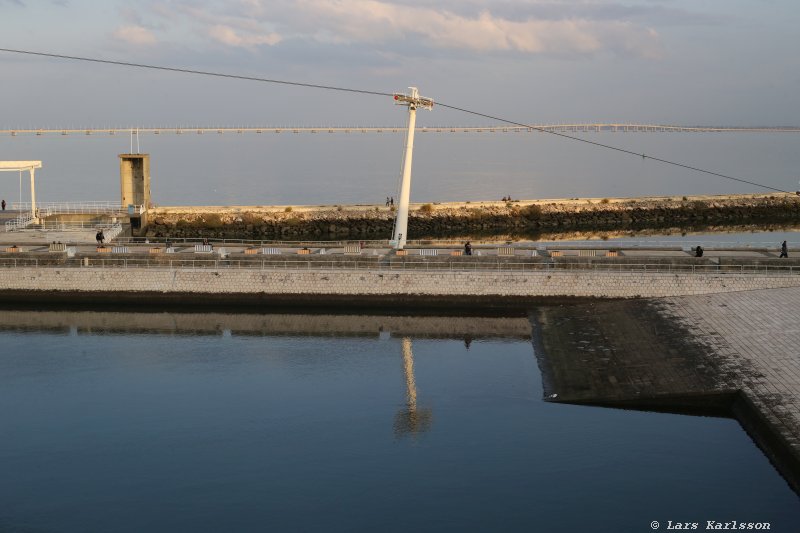 They have a very big aquarium here, three floors high !
---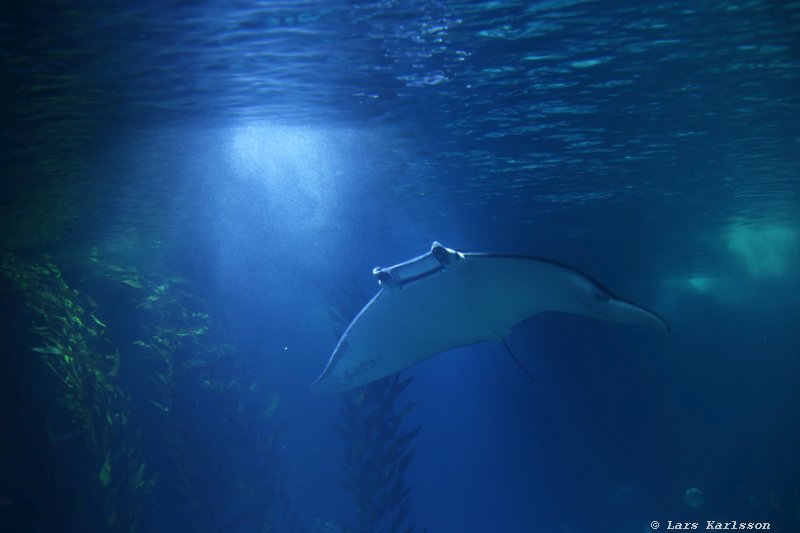 A big manta ray pass by.
More to read about Manta ray at Wikipedia:
---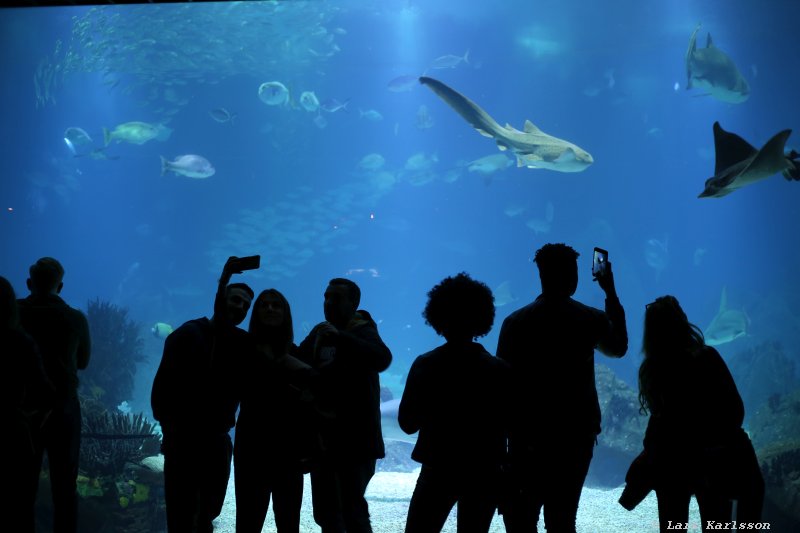 ---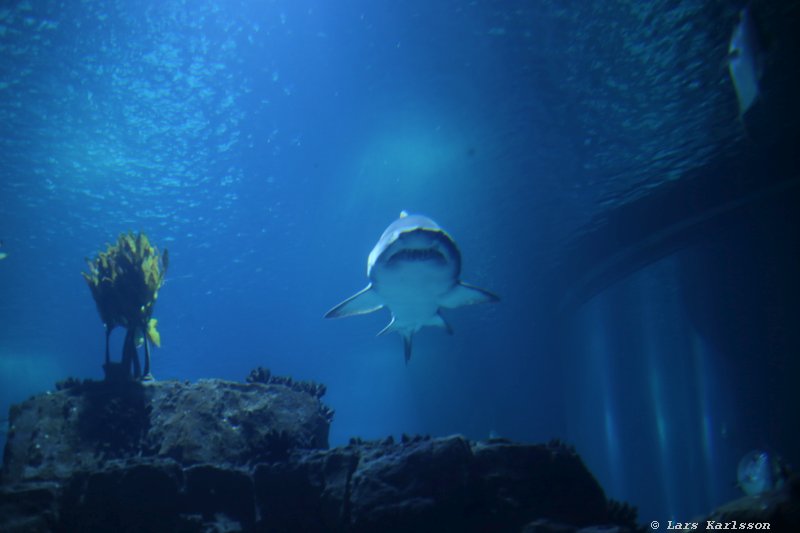 Do you remember the movie Jaws?
---
If you visit Lisbon I think you will like to visit this aquarium.
More to read about the Lisbon Oceanarium at Wikipedia:
---
Alfama: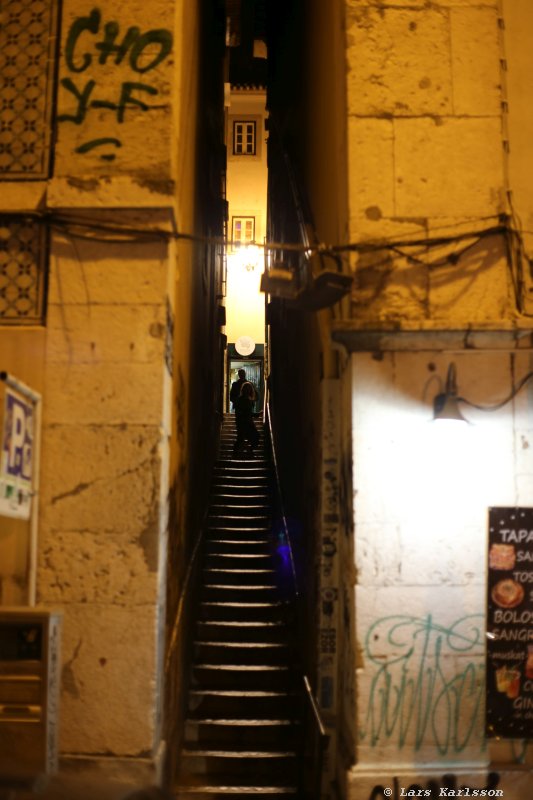 At last we took the tram no 28E back to our stay and room. On the way back we jump of the bus at Alfama and take a shortcut through the alleys. From here there is also an elevator, we thanks for that, it's very steep here.
---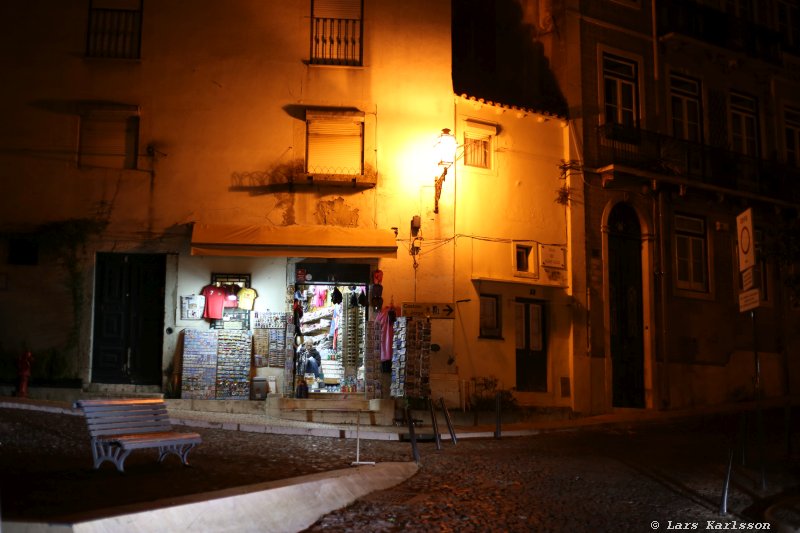 But first a dinner.
---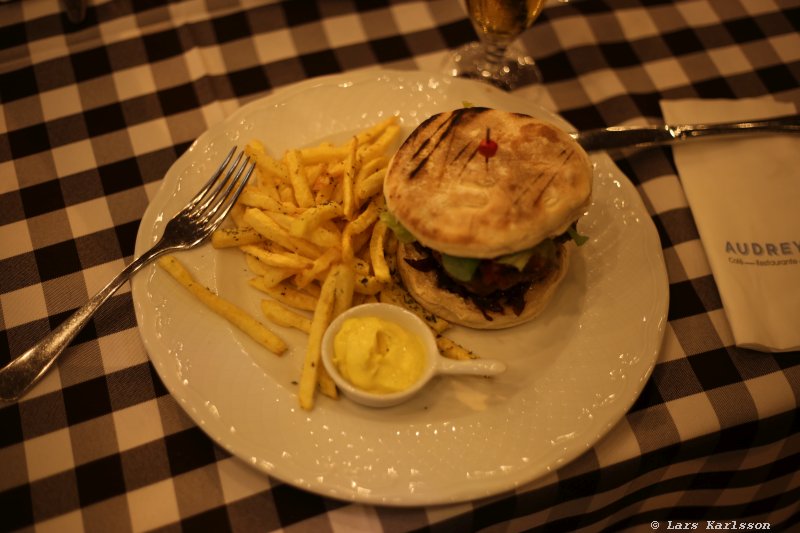 Last night we found a nice restaurant just around the corner from where we stay. This evening we shall have a dinner at that place. A special Santiago Hamburger for me, very tasty! We had a lot of talks this evening about this day and how wonderful it had been to visit all those places.
This was the last evening at Lisbon. We love it very much.
Day V, going home:
We have to be at the airport about 10 am. We say goodbye to Lisbon and prepare for a four hour flight travel home.
The END
---