Tutorial:
Drift align with help of PHD2
---
Content:
---
3: How to use PHD2 for drift align, Altitude
Push the Altitude button in PHD2 drift align window.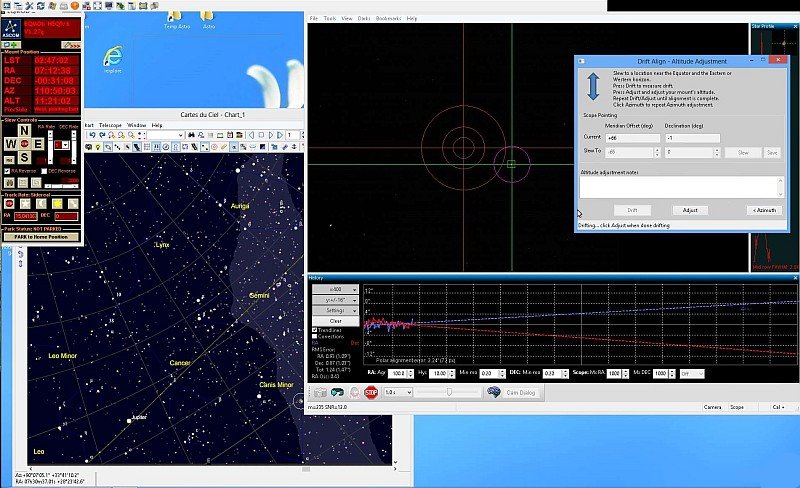 (Click on the image and you get a full resolution image in a new window)
Ideally we find a star at the horizon along the celestial equator line (DEC = 0 +/- 5 degrees) in the West or East. In actual practice, we must have it about 20 degrees above the horizon, but still close to declination = 0 degrees. In my location (latitude +59 degree) it show up here as +66 degree offset from meridian in PHD2 drift align window.
Repeat this Altitude process as you did for the Azimuth, but now adjust the mounts Altitude, up or down. Make a note in note window how to perform, up/down etc.
NOTE!
Only look at the trend of declination, in my case the red one, note: always the declination trend line for both Azimuth and Altitude adjustments, the trend for RA doesn't matter!
After a few times adjusting I got a deviation of about 5 arc minutes or better from the Earth's axis.
You must go back and readjust the Azimuth at least one time and after that at least do a check of Altitude again. Have you done this drift align a few times, then it's possibly to do this in less of ten minutes and get a good precision.
---