Astronomy Calculations
---
Content:
---
Type in your data
It start to calculate as soon you change or write new figures in the white or dark red boxes. Do not exceed the maximum number of characters, delete characters if necessary.
Note:
You use the information on your own risk! There can always be a mistake in my equations behind the calculations, check that the result is correct. Let me know if you find something wrong and I try to correct it. Some calculations are very simple done and not correct in the small details.
Information:
How to interpret the results ? If N = 1 or less, then only we exists just now in the Milky Way galaxy. If N is higher than 1 we have neighbours out there.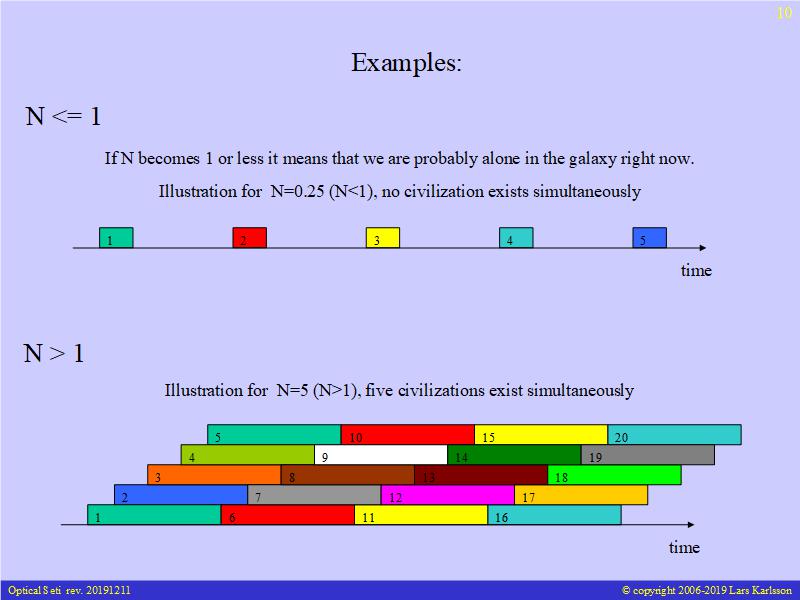 Illustration of low and high N. If the N value get low, don't forget that there are billions of galaxies out there.
Note:
It doesn't has to be radio waves we are looking for, other electro magnetic spectra as light waves is also possible. Shorter wave length is easier to direct in a more narrow beam and then need less power. But radio signals is better to penetrate the dust in the galaxy. It could of course be some other technology or physic we don't understand yet.
Are we alone or not ? According to some, if aliens are as we are and want to explore the surroundings. It will take as short time as 50 millions year to explore the whole Milky Way galaxy, if that's true we should already had a visit from aliens. One problem as for human species, human will probably not last more then 300'000 years and we already used up 100'000 of those years. Other species will take over as the evolution goes on, on the other hand, maybe we take control of the evolution if we want that.
---