Soapbox, Skärholmen 1971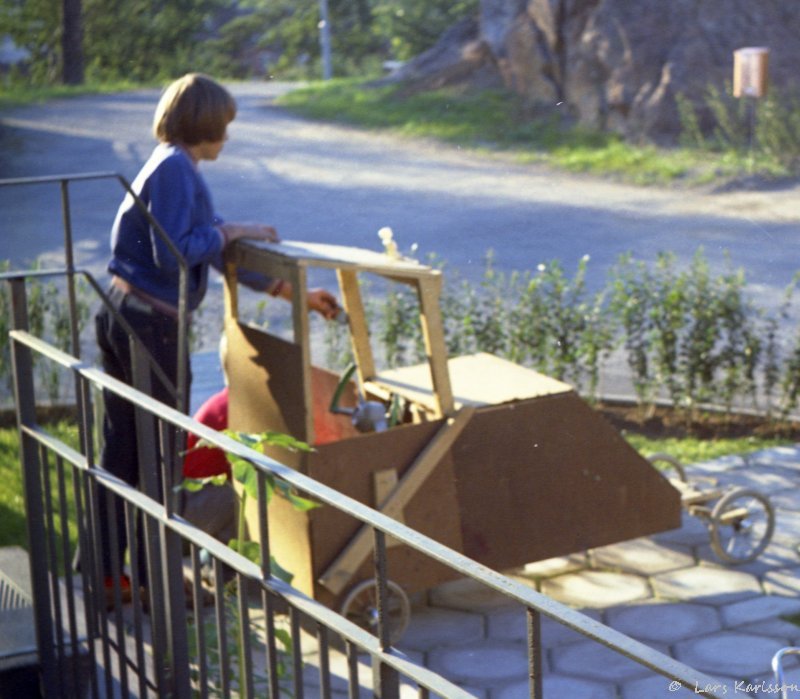 Engine: Gravity
I'm very happy now, I found this old photo of my soapbox recently.
When at home I couldn't drive my go-cart, I need something else. I built this soapbox with leftover parts. An another name for it is gravity car, and there were plenty of steep slopes where I lived.
It even had a steering wheel but it was a little bit special in the beginning. When turn left the car turn right. No problem to learn I thought, how to steering it, but after crashing into the neighbor's flower gardens I realized that it needed to be reconstructed. The only thing I had to do was to cross the ropes that controlled the front wheels. After that, the steering behaved like on a normal car.
Later, I equipped it with very wide and strong rear tires that my dad had found on a bargain. Also heftier brakes on both side were incorporated. After that we did speed records in the downhill slopes to the horror of our neighbors. The soapbox was later painted in silver.
---