1975 years Lincoln Continental Mark IV 460cc, Tyresö 1985
After had seen a car like this one on an American TV series I thought, I must have a car like that one.
When I started to search for a car I was a bit hesitant, maybe I should have an Cadillac Eldorado instead? The Eldorado have a convertible model which Lincoln didn't have. But the Eldorado was a front wheel drive chassis and I didn't like that.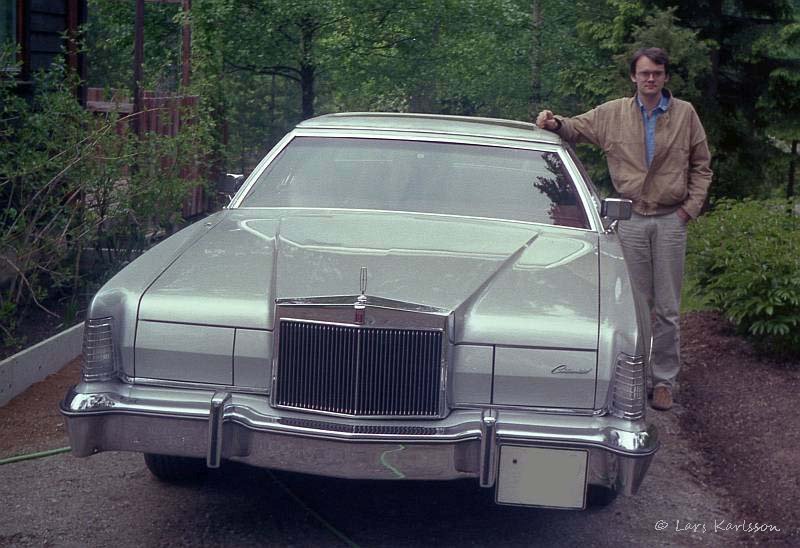 My biggest toy yet! This Lincoln was in an excellent condition. A Cartier design and it was equipped with the moon roof option. It even had a Television receiver. I had become wiser with the years and is now focused on cars that was in good condition.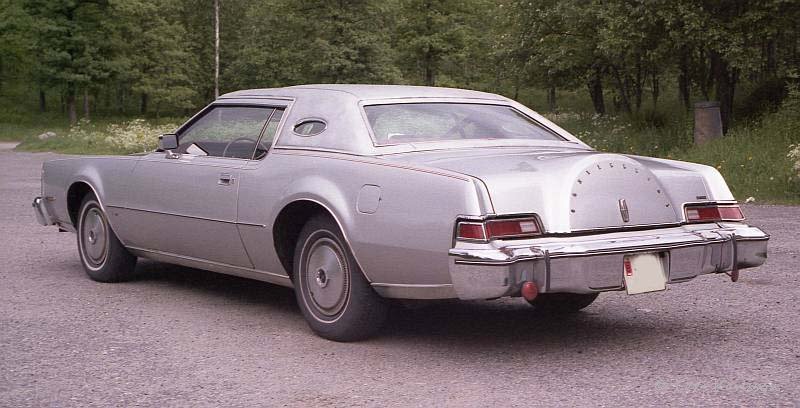 Even if it's only a two door car it's not a small car, if I remember correct the length of the car was 6.1 meter! We could sit 6 people in it without problem, maybe the springs was a bit soft.
US got new regulations on cars in 1974, the bumbers must handle low speed collision and then the car manufactories mounted these tank style bumbers which added to the length of the car. The 1972 Lincoln had normal bumbers and looks much better.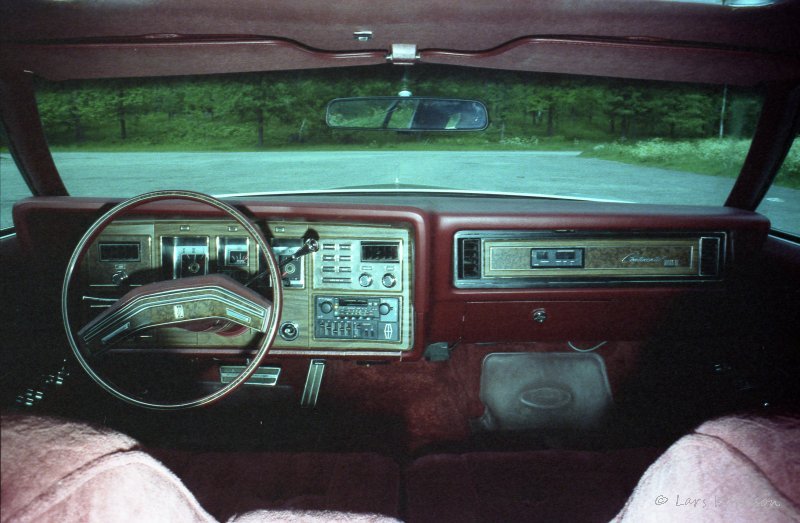 Inside, to the right on passengers side was a digital rpm meter, at a speed of 100 km/h the rpm was 1200, but to what use in a car like this? The engine was a big block Ford 460cc (7.5 liter) and 220 hp. This engine was only available to the next year, after that they only offer the tiny 400cc engine. This car weight maybe 2.2 ton and had a big engine, result? It took 18 to 35 liter gasoline per 100 km. This year 1975 they for the first time offer disc brakes on all four wheels, there was also an antilock break system, ABS.
Here you find more information about this fantastic car:
I bought this car in 1985 and sold it the year after. Now I began to think along new lines and thought about cars that are not used so much gasoline. Had never thought that idea before, but the Lincoln was extreme with its 30 liters per 100 kilometers. But for the coming thirteen years I didn't have any own cars at all, I rented cars instead.
---