Chrysler Crossfire
2005 years Chrysler Crossfire, Stockholm 2016
After nine years with my Ford Ka I have to replace it, but with which car?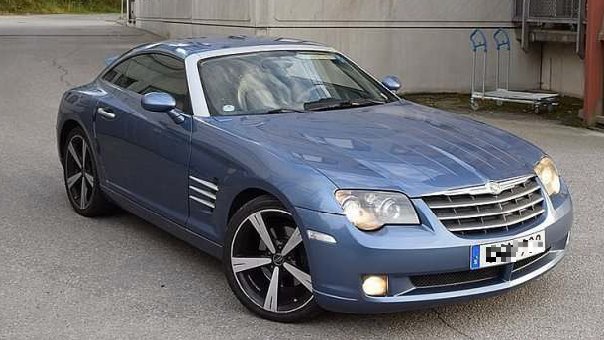 After eight months of searching and I don't remember how many times I changed my mind of what I want. At last I bought this, a Chrysler Crossfire. Why this stupid car that only has two seats, very limited trunk and poor gas mileage? And then it's older and has more miles than my already old Ford Ka. And where shall I have my astronomy equipment?
Yes it's stupid, but I like the V6 engine, rear wheel drive and the compact coupe. As you maybe know this is a Mercedes SLK 320 under the body. Mercedes has good reputation about it's quality and it make it easier to find spare parts here in Europe.
The engine is a 3.2 liter V6 and 215 hp, about the same hp as my earlier cars, but this car has much less weight. The gearbox is a Mercedes automatic 5 speed with overdrive. I paid exactly as much for this car as I paid for my Ford Ka nine years ago.
I have rewritten this page. Now it's a collection of information I need to understand this car and how to repair it if it get broken. I'm sure others also need this information so I share it here to you.
---
General information about Chrysler Crossfire:
Useful information about Chrysler Crossfire and how to repair it:
My own repair:
This is a collection of what I have found and what I have done on my Crossfire.
| | |
| --- | --- |
| Chrysler Crossfire gallery: | |
---
V6 engine E32
The model code to this V6 engine is M112. This version is the 320 or 3.2 liter, it had been manufactured in different sizes, from 2.4 to 3.7 liters. From years 1998 to 2008.
The engine is a bit special, it has two spark plugs on each cylinder, twelve in total. Each cylinder has three valves, two intake and one outlet.
V8 engine in Crossfire?
I found some interesting readings, some Mercedes V8s fit directly to the gearbox and also Chryslers Hemi V8s looks to fit without to much work.
I don't have any plans to replace my V6 engine, but fun to know that I could.
Back to contents
---
Automatic 5 speed gearbox:
Mercedes call this automatic gearbox 5G Tronic. It was introduced already 1996 and is still in use in the most powerful models which the new automatic 6-speed gearbox can not handle.
The gearbox has lock up function on the higher gears.
The gearbox don't have an oil stick from factory, you have to buy one separate!
Back to contents
---
Cleaning and waxing:
After I bought the car I cleaned and wax it to have some protection during the winter. I couldn't find any rust problems, just a few paint scratches where it was tiny surface rust, easy to fix when the summer comes, until then it's protected by the wax coating.
Along the car goes lines over the hood and roof, also the interior. For me it looks very nice and give a special look.
And the look of the back? Some people love it and others do not. For me it's ok.
Back to contents
---
Anti theft alarm:
My plan today was to do some work on my car, but ...
Welcome to Sweden!
I did some research on internet instead. I found that in Europe the remote controlled anti theft alarms are transmitting in the 400 MHz radio band, this car is imported from US and they use the 300 MHz radio band. So what I understand they have replaced the original transmitters in the keys with the two extra I have to get it certified for Europe. Then I shouldn't change anything, and when I replaced the battery in the second remote control it started working directly.
Back to contents
---
Replacement of battery:
I got problems to start the engine when I have not used it for a week or so, find that the battery was out of power, it looks new but something wrong with it. And it was also only a 60 Amph capacity, it should be a 74 Amph battery. I bought a new 74 Amph Bosch battery at Mekonomen and luckily it was a 25% discount these Christmas days on it and a three years guarantee. After a week without use I tried to start the engine today with minus 13 degree Celsius outdoor temperature, no problem, it started direct!
Back to contents
---