Chrysler Crossfire
Emission control system

---

This is one information page of my collection of what I have repaired on my Crossfire.

Note:
You should not do any repair on your car if you don't have enough experience and knowledge! You use this information at your own risk! Don't blame me if something goes wrong.

---

Content:

I believe this information must be useful to most cars manufactured from year 1997 to maybe 2008. And if you have a Mercedes SLK R170 with a 320 engine it's almost exact the same. V engines normally have four O2 sensors and inline engines two O2 sensors.
---
1, Engine's MIL lamp lights up, fix:
I noticed that sometimes the engine's MIL (or CEL Check Engine Light) lamp lights up. That's a warning that there is a problem with the engine. When I read the OBD error codes it say: The fuel is lean on the bank 1 cylinders and to rich on the bank 2 cylinders.
Error codes:

P2096, Catalyst trim system too lean, bank 1
P2099, Catalyst trim system too rich, bank 2
Bank 1 is where the cylinder no 1 is located on a V-engine. On a Mercedes / Chrysler engine that's on the passenger side on a left hand (not British cars) drive car.
There are a lot of things that can cause these errors. O2 sensors bad, vacuum leakage, air flow meter, temperature sensors and leaking fuel injectors. Other things as well.
The car only consume about 8.5 to 10.5 liter gasoline per 100 kilometer, so it can't be a big problem.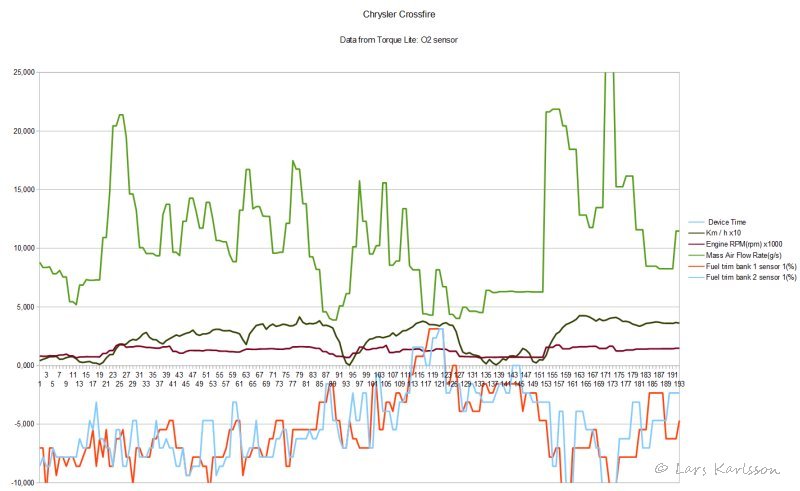 (click on the image to get a full resolution photo in a new window)

From an earlier data measurements I got this which show that the fuel trim values are around -10% to 0%, mean value -5%. Maybe one indication that something is wrong. The mean value should be close to 0%.

Note:
This is just an overview, you need to know a lot more to do this!
---