Infinity Alpha speakers
---
Content:
---
3: Infinity Alpha 50, main speakers
The Infinity Alpha 50 main speakers are the biggest in the Alpha family. They have twin 8" bass range speaker elements. A 5" mid range and a 1" tweeter. They all have the special ceramic speaker elements which is a very stiff material.
Infinity Alpha 50 specifications:
Manufacturer: Harman
Year: 2002
Power rating: 200 watts
Nominal Impedance: 8 ohms
Bass reflex: vented box
Crossover: 3-way, bi-amp
Crossover Frequencies: 500 Hz and 3,000 Hz
Sensitivity: 91dB / 1W / 1m
Frequency response: 35 Hz - 22 kHz

Drivers,
Tweeter, part number A1201B-H, 9747202:
25 mm ceramic dome, 4 ohm?

Midrange, part number A1205A-M, 9747204:
130mm ceramic

Bass, part number A1208, 9747218:
2 x 200mm ceramic

Dimensions W x D x H: 250 x 360 x 1000 mm
Weight: 23.5 kg each speaker
Crossover drawing: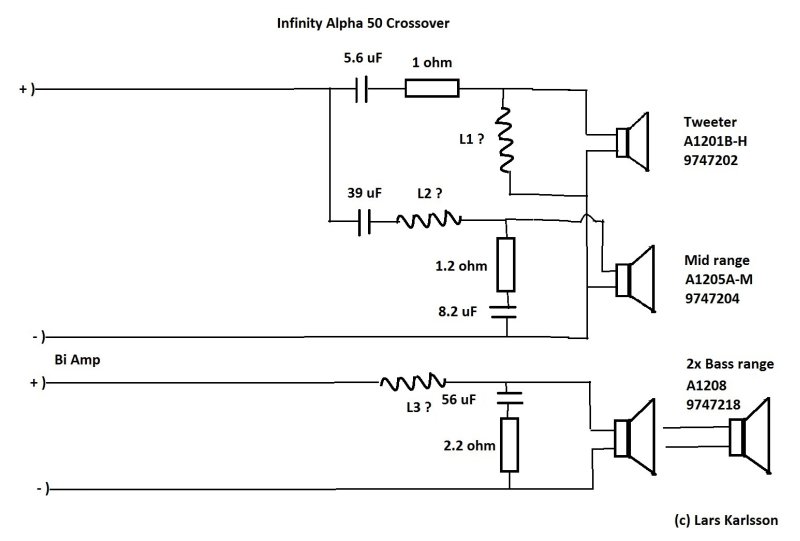 Coil
Inductance
maybe!
wire
length
diameter
comment
L1
0.15 mH
0.5 mm
8.6 mm
23 mm
air coil
L2
0.47 mH
0.5 mm
8 mm
26 mm
air coil
L3
3.3 mH
0.71 mm
32 mm
24 mm
ferrit coil
Above list of inductors I found from a Russian page, there is a link at the end, but must be more then one version of Alpha 50 because the capacitors has different capacitance.
15 year old speakers could had the membrane rubber edge broken. These ones looks to be good. The ceramic domes are very sensitive and one tweeter has a dent.
Note:
I'm not sure to 100% that it's a 1 ohm resistor to the tweeter, read below.
---