My astronomy project:
Replacing a 2.5" field flattener with a 3"
---
Content:
Note:
I take no responsibility or liability for what are written here, you use the information on your own risk!
---
7: Test with ultra thin adapter
Vignetting
Now after I had replaced my 11 mm length M48 adapter with a 1 mm ultra thin M48 adapter I want to know, is the field curvature correction better?
But first I had to wait until I get a clear sky, after two weeks I got it. I also got time to take one flat image to have when I investigate if my improvement in lowering the vignetting was successful.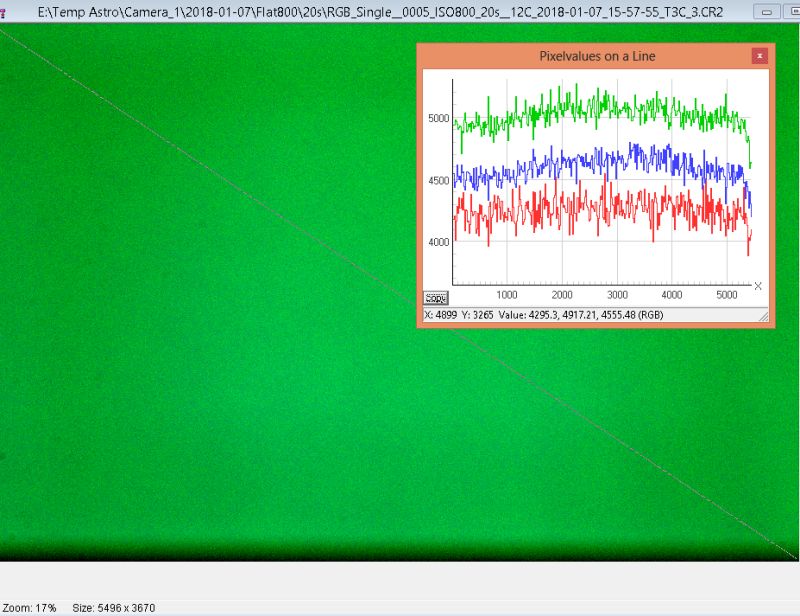 See what a fantastic low vignetting I got after all work I have done on this project. Never seen such low vignetting earlier and this is a full frame sensor. The line graph goes from one corner to the opposite, 44 mm long. To the right in the graph you see a drop in the signal, that's where the camera mirror is and shadowing the incoming light.
Curvature correction
As I have written earlier I had 14 mm to long adapter between the field flatter and the camera sensor, now when I shortened it by 10 mm It's only 4 mm to long. That is too much also, normally you adjust the length in parts of one mm. But how bad will it be?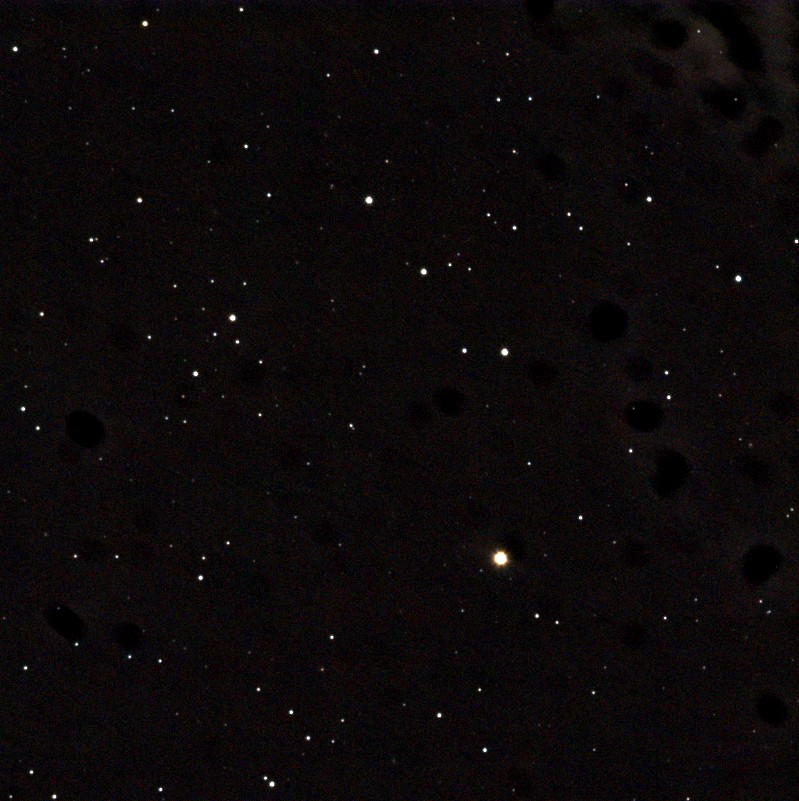 This is a 1:1 pixel crop of 800x800 pixel of the top right corner, the corner are 22 mm from center (radius). Earlier I could clearly see that the stars was radially stretched, but now it's hard to see. It will be good enough for the moment, I believe if I shorten the adapter the missing 4 mm this field flatter could handle a medium format sensor.
The test object this night was the planetary nebula M97 and the galaxy M101. But I had the sensor badly covered by dust, it's very hard to clean it, it's like static electricity that hold the dust stuck to the sensor. You can see traces of it in the image above. This has always been a big problem for me.
My earlier plan was to build a new big off-axis adapter to this new optical system. But I must say that I'm very satisfied with the small guide telescope I have now. I get a wider field and the focus doesn't change when I change focus to the main camera. But I noticed one problem, I have flex between the guide telescope and the main telescope, very common problem. I think I can get it much better with a stiffer mount of the guide telescope, as it's now I have soft plastic distances that hold it to the main telescope, it was just thought to be a temporary solution.
I feel that I'm closing in to get a very high performance telescope, maybe a bit slow, but who can afford a 200 mm f/5 APO refractor?
---