Observatory Saltsjöbaden and its astrograph
---
A visit to Saltsjöbaden's Astrograph
---
14: How it ended?
Astrographs of refractor type came more and more replaced by the "fast" Schmidt telescopes. The same here, in the mid-1960s it was purchased to Saltsjöbaden just such a telescope. A Schmidt telescope is essentially a mirror telescope and has only one lens element which having a weak correction. Schmidt construction reduces the problem that refractor has with its lens design, namely that the lenses refract different wavelengths (colors) in different ways. Surely one of the major problems with this astrograph I told you about. The Schmidt telescope did not last long, light conditions that existed here made it unusable. Already after some years it was realized that the observatory must once again move to a darker place, this time to the island La Palma, Spain out in the Atlantic Ocean.
Kerstin Lodén says (about the old astrograph):
"In the latter part of the 1900s it was used as far I know as an instrument of views, the finder telescope was suitable for it."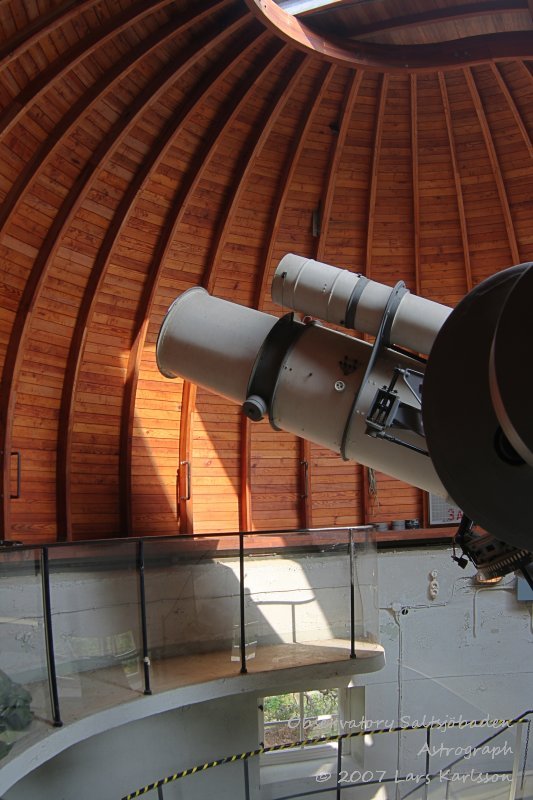 A last look up at the astrograph before we close the doors and leave the building. An exciting day!
Here I have found an article that Kerstin and her husband Lars Olof had written about the solar eclipse 1954 in Sweden:

(click on the image and you get a high resolution image in a new window)
A panorama of the astrograph.
---
Thanks Kerstin Lodén associate professor of astronomy and Professor Gösta Gahm for all material and stories obtained for making this article possible. Also thank to Nils-Erik (Nippe) for his efforts together with members of STAR to preserve this amazing instrument.
I was sadly told that Kerstin is not here with us any longer, she passed away at the age of 80 in 2009.
We are infinitely grateful that we can have some of your memories of your work with the astrograph, thanks Kerstin! I hope you have found a place up there among the stars.
I only had contact with Kerstin by telephone and email, but our future plan was that we should have meet each other at Stockholm University. There we would have tried to find a glass plate in the archives from her work with the astrograph and scanned it and compare it with todays technology.
Saltsjöbaden's astrograph (video):

This impressive astrograph was built of Carl Zeiss Jena in the 1930s. If you haven't been there and live in Stockholm, Sweden, visit it! When video has started you can if you want switch to full-screen and HD resolution.

Content:

Outside
Inside observatory
Astrograph

Useful links:

---