Seminar report:
Mapping Large-Scale Structure Evolution
over cosmic times
---
Contents:
---
How to get an interesting day:
This is for you that hadn't the chance to participate at the seminar, a very brief overview.
Intensity mapping is something I haven't very much knowledge of and it will be very exciting to listening to the seminar.
Some useful links:
Intensity mapping:
---
Line Intensity Mapping: Mapping Large-Scale Structure Evolution over cosmic times:
By PHD Marta Silva
You can read her abstract here:
"Line-intensity mapping (LIM) is an emerging technique to explore galaxy and structure evolution over cosmic times. A large number of undergoing LIM missions are competing for the first auto-correlation detection, which is expected in the next couple of years. On the other hand, efforts are being made to plan for third-generation missions which will not only detect the target signals but will map line emission over large volumes tracing LSS and its time evolution. These next-generation missions will measure IGM and galaxy properties as well as put precise constraints on the cosmology of our Universe. This talk focuses on new strategies for processing and interpreting the first sets of observational data for LIM of galaxy lines and on the current plans and science prospects for 3rd generation LIM missions."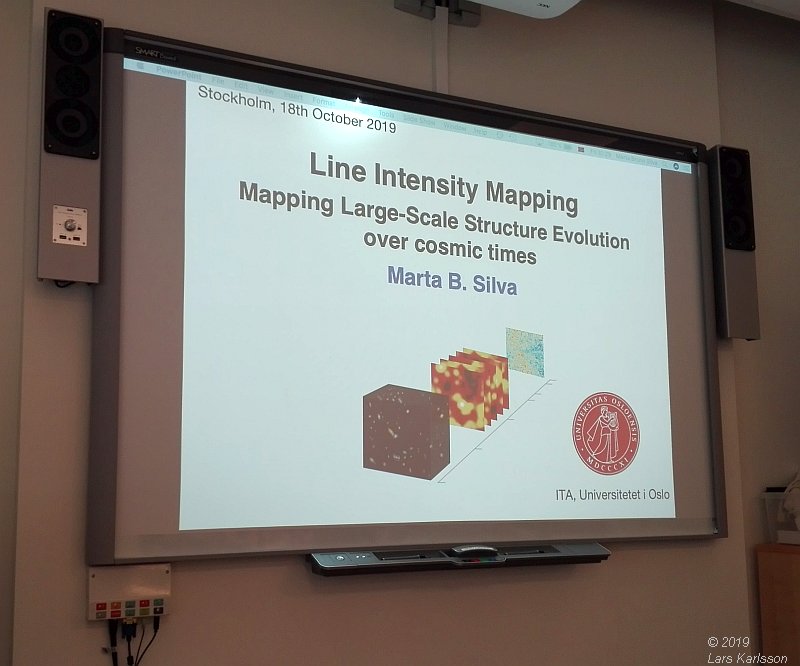 Marta was earlier at Lisbon University and are now on her second postdoctoral position at Oslo University, the seminar was held at Stockholm University 2019.
---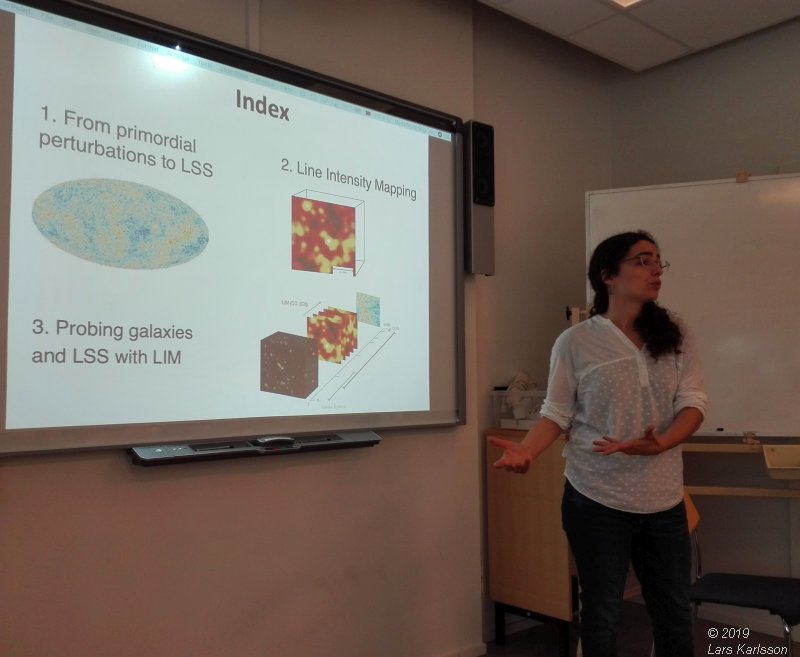 Marta tells:
With LIM we could fill part of the gap between the primordial back ground radiation and LSS.
Lars:
LSS = Large Scale Structure.
---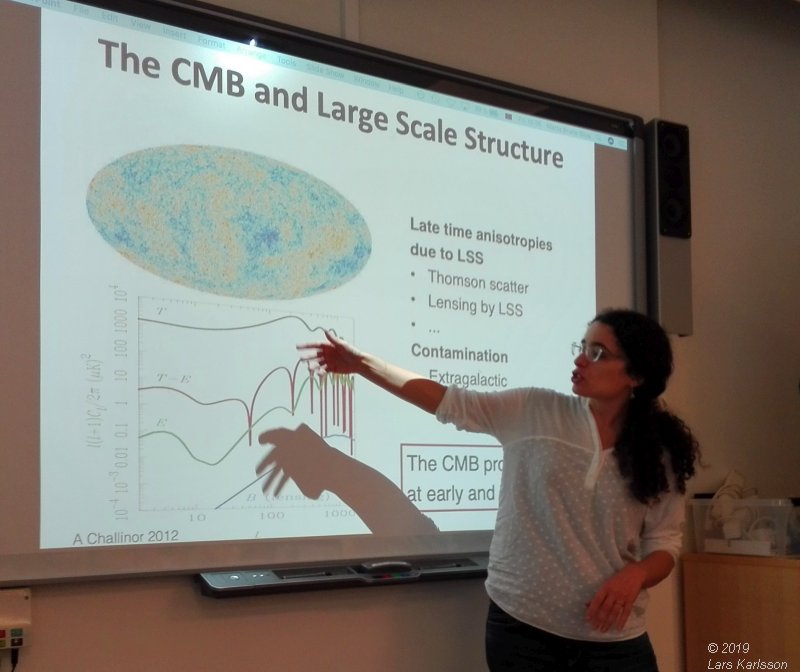 Marta tells:
From CMB to Large Scale Structure, but how ?
---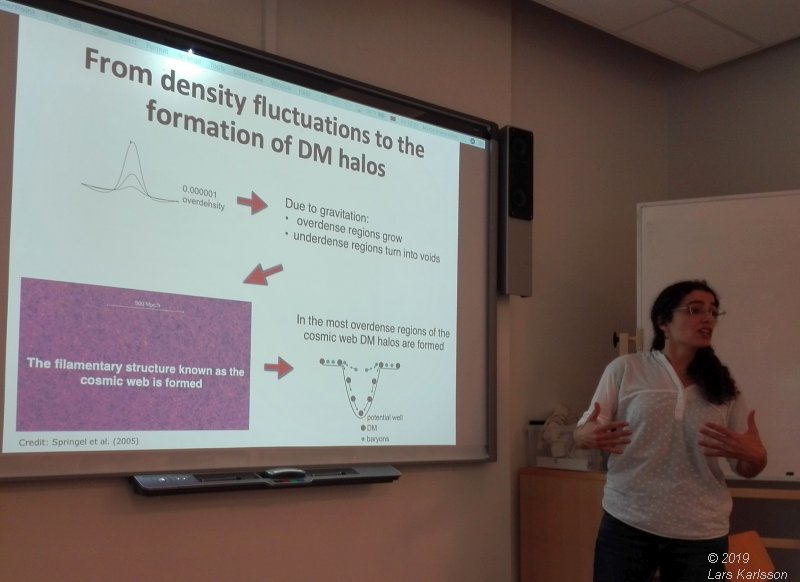 Marta tells:
Due to gravitation: over-dense regions grow, under-dense regions turn into voids
---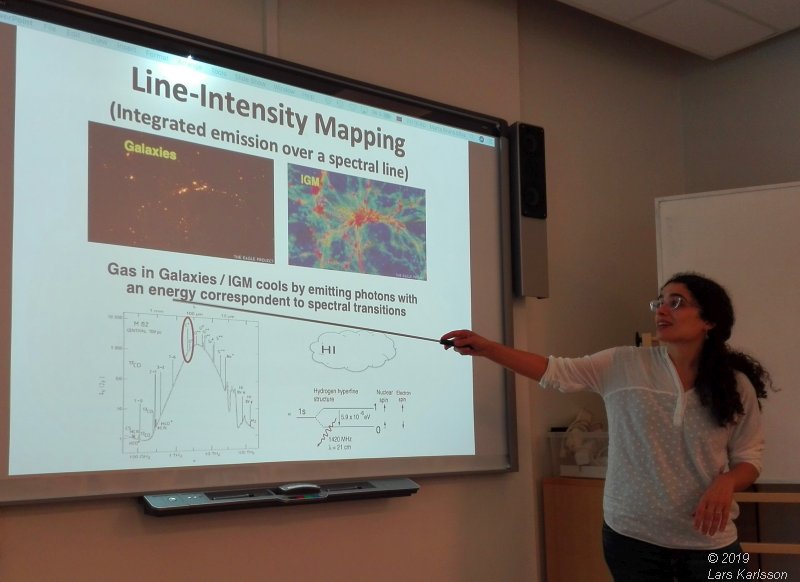 Marta tells:
Gas in Galaxies / IGM cools by emitting photons with an energy correspondent to spectral transitions.
---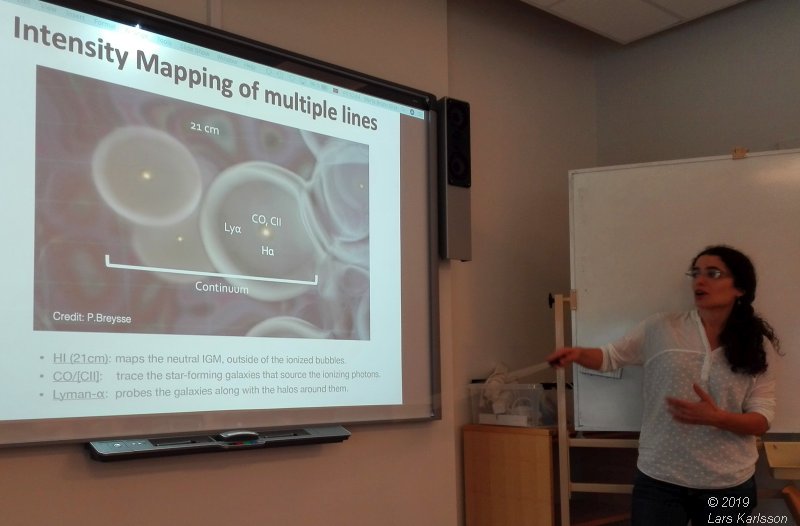 Intensity mapping of multiple lines:
Lars:
HI = Neutral Hydrogen
CO = Coal monoxide gas (a molecule)
CII = Single ionized Coal
Lyman-alpha = Hydrogen gas (gives emission spectra when a electron falls from shell 2 to shell 1 or absorption the other way, 1 > 2).
---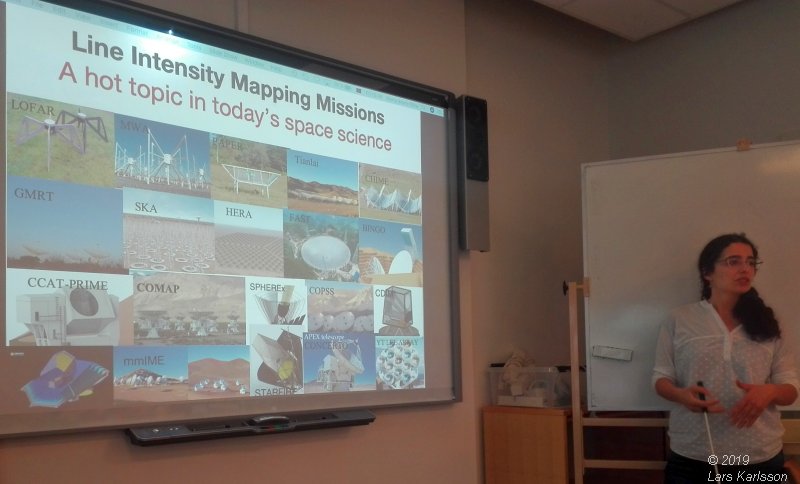 Marta tells:
Todays instruments and future instruments.
---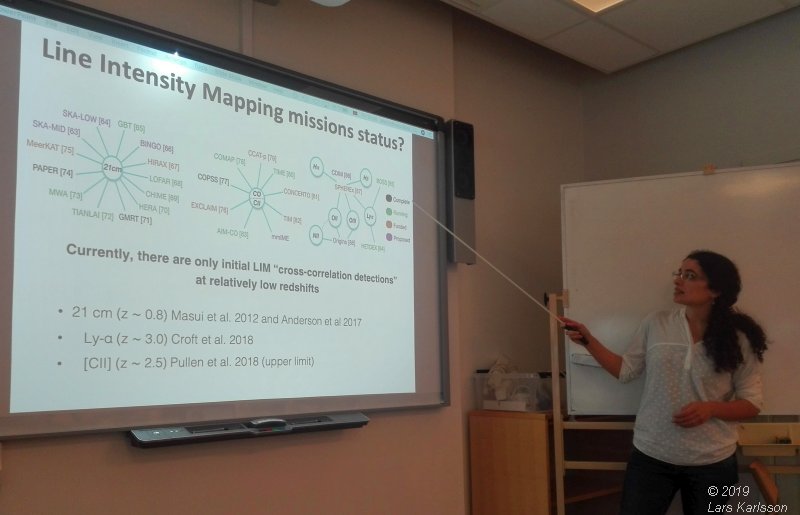 Marta tells:
Overview of instruments, completed, Running, Funded, Proposed.
---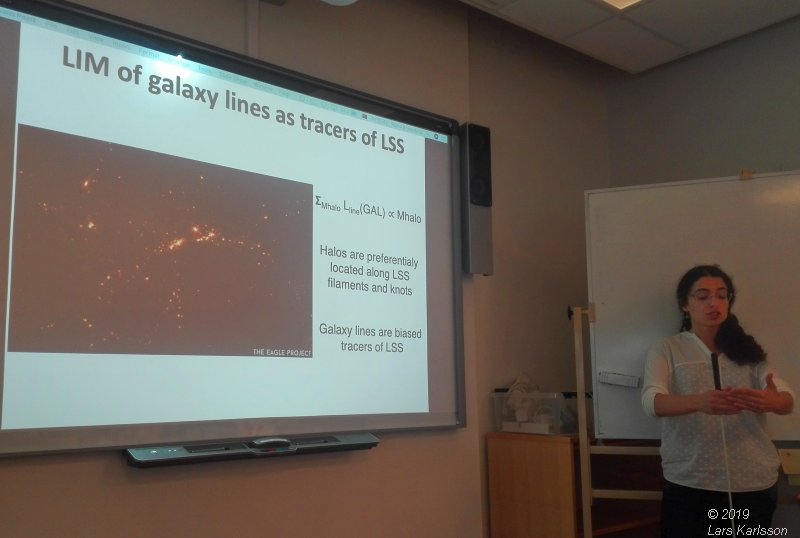 Marta tells:
LIM of galaxy lines as tracers of LSS.
---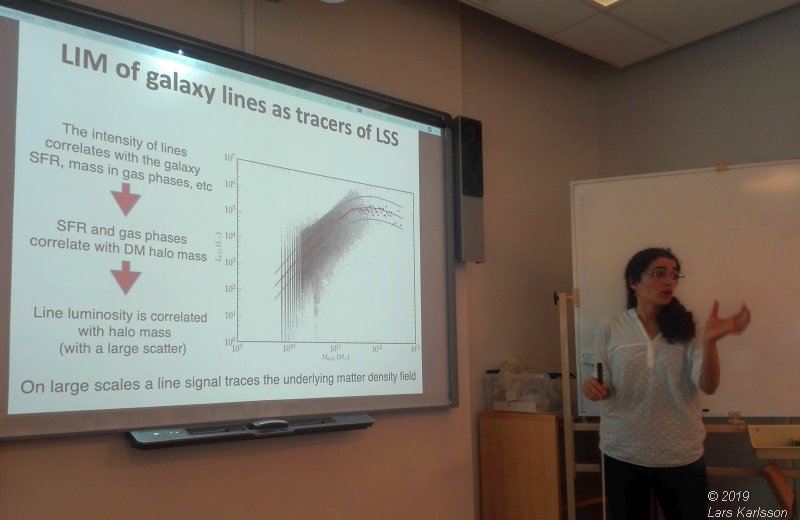 Marta tells:
The intensity of lines correlates with the galaxy SFR, mass in gas phases, etc.
---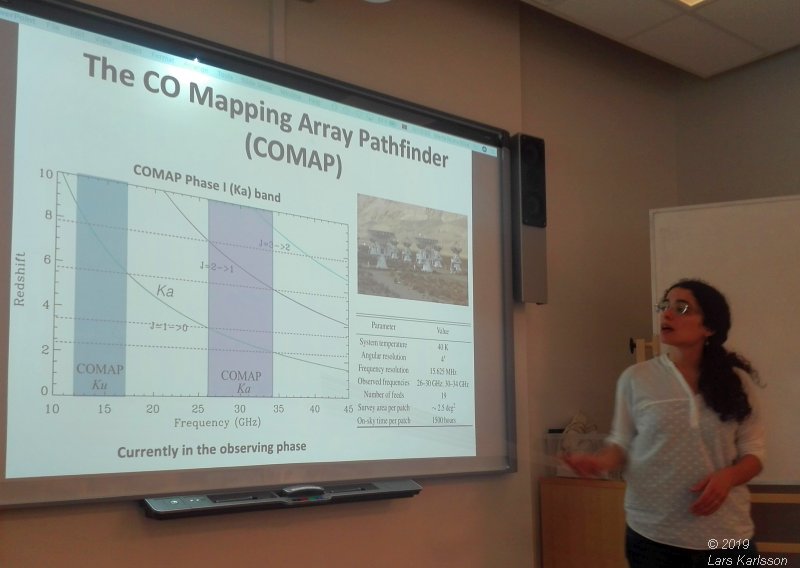 Marta tells:
CO gas is 2nd most common emitter in molecular clouds.
Lars:
CO emits radio waves, it comes from it rotation and it depends on the energy. It's not continuum, it release (or absorbs) energy when it jumps from one energy, example J = 2 to J = 1.
---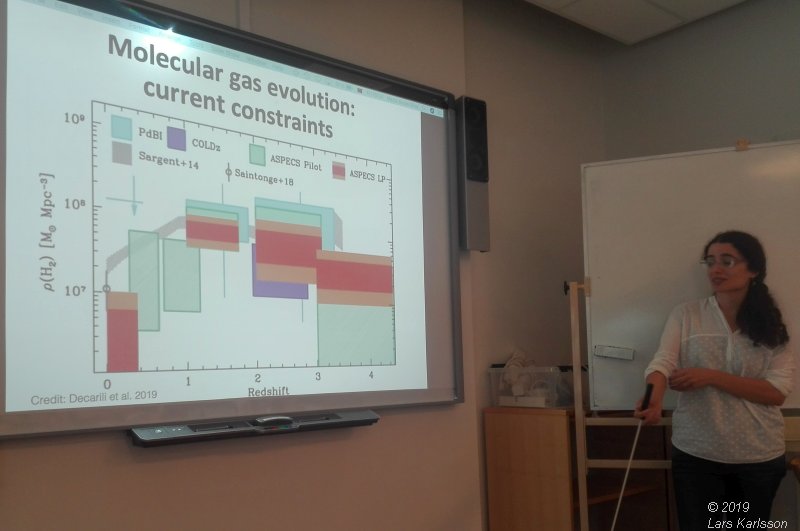 Marta tells:
Molecular gas evolution, current constraints.
---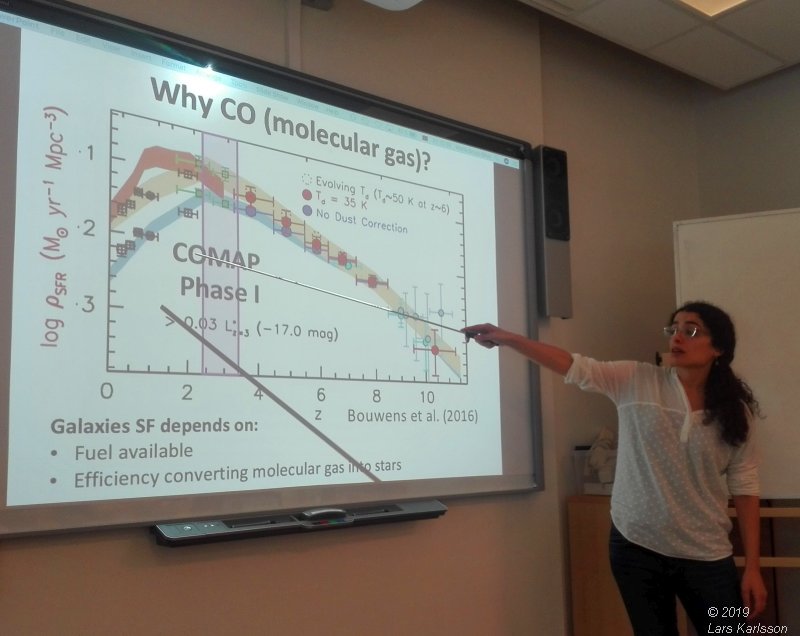 Galaxies SF depends on:
Fuel available
Efficiency converting molecular clouds
Lars:
SF = Star Forming.
Y-axis = Z or redshift, see it how far back in time.
I missed something here, but I think she explain why the star producing pace drops in near time, maybe because a lot of gas has already been transformed into star. Not enough gas left to create new stars from.
---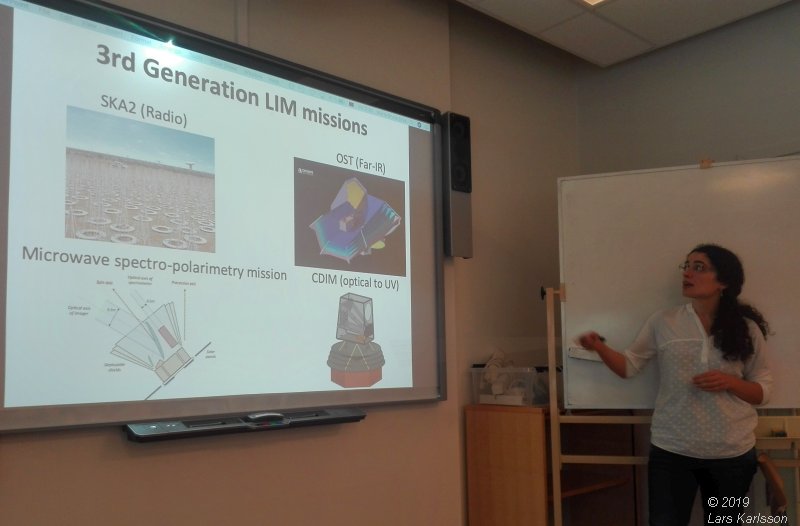 Marta tells:
3rd Generation LIM missions: SKA2, OST, Microwave spectro-polarimetry mission, CDIM.
---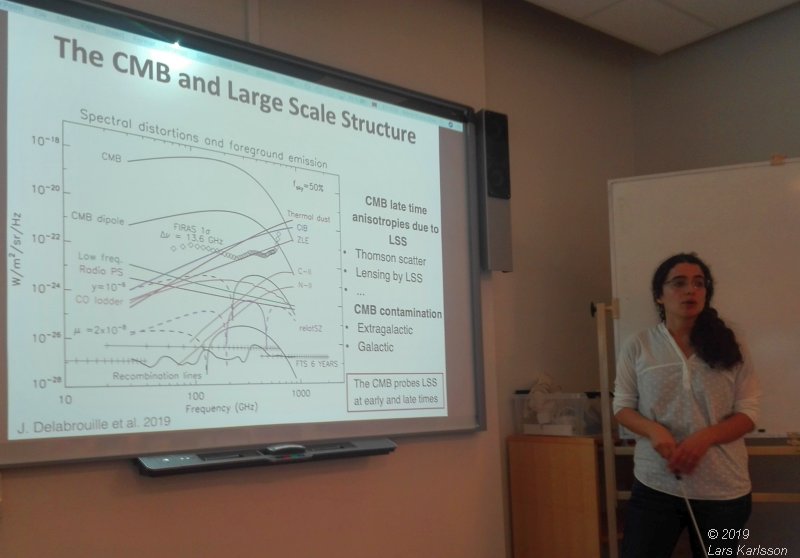 Marta tells:
When examining the data it must first be "cleaned" from foreground disturbers.
---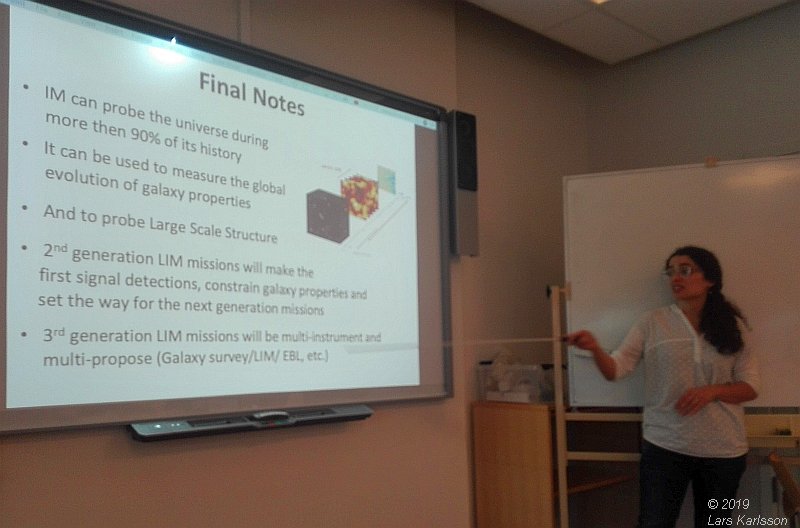 Marta gives the final notes and say we have to wait 2 or 3 years until the new instrument are up there and producing data to get more deeper knowledge.
Lars:
I have found some pages about Marta where you can get more information about her research:
---
These seminars are very interesting. Do you find it interesting too? Join me next time!
If you don't live in Stockholm in Sweden as I do I'm sure that you can find something similar to visit at your place. Or you do as all other do, search the internet, TED Talks is good.
No more boring days!
---